Troupe tells touching tale of family secrets
Lindsay Little Theatre takes a piece of history from a dark corner of Canada's past and dramatizes its impact through the generations of one family in Homechild.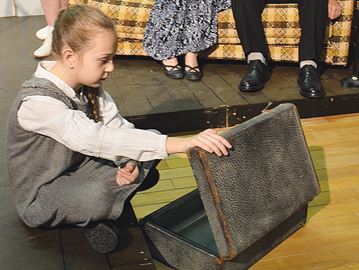 Troupe tells touching tale of family secrets
Catherine Whitnall
Pam Brohm, Marion Bays, John Cook and Arianna Koty (foreground) star in Lindsay Little Theatre's upcoming production of Homechild, running April 21, 22, 28 and 29 at the troupe's 55 George St. studio.
Kawartha Lakes This Week
LINDSAY – Sometimes the past comes back to haunt us; sometimes it's a good thing.
Such is the case with Lindsay Little Theatre's presentation of Homechild by Governor General's Award-winning playwright, Joan MacLeod, running April 21, 22, 28 and 29.
The play is grounded in the migration of more than 100,000 orphans and children who were given up for adoption who were sent from the United Kingdom to Canada between 1869 and 1948 to work as labourers or domestic help. It was believed the children would have a better chance for a healthy, moral life, but while some were welcomed into Canadian families, many were poorly treated and abused.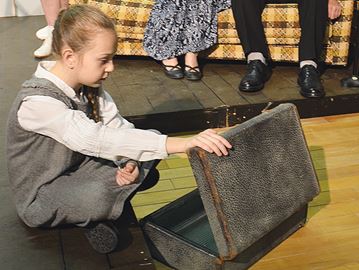 "I've always been interested in family history and geneology," said play director and producer Miranda Warren. "In a way, my grandfather [Rodney Haynes] was a self-made home child as he decided to leave everything behind and come to Canada when he was 14."
Warren wanted to do the play the minute she came across the scrip and was thrilled when the troupe decided to celebrate the nation's sesquicentennial with a season dedicated to Canadian playwrights.
"I think it's a great opportunity to highlight this time in history," said Warren.
The play takes part in present day, centering on Alistair MacEachern (John Cook), a crotchety, funny and fearless retired farmer who, for 70 years, has silently longed for the sister he left behind in Scotland when he was brought to Canada as a 'home child'.  When Alistair suffers a stroke, suddenly these secret memories are unearthed leaving his family to make sense about his ramblings about Katie.
For the most part, the cast is comprised of familiar faces including Pam Brohm (Alistair's sister-in-law Flora), Karin McMullen and Anthony Jackson (friends and neighbours) – Dave Cook (son Ewan) and Marion Bays (adult Katie). Tarina Koty, who tackles the role of Alistair's daughter Lorna, is not only brand new to theatre, but is also mom to one of the two actors who play Katie as a young girl.
Taking a page out of fellow Lindsay Little Theatre director Altaire Gural's book, Warren decided to double up when it came to casting Katie as it's a pretty heavy role.
"I was nervous that I wouldn't find the right child for the part," said Warren who chose Lyra McCann and Arianna Koty from the four who auditioned.
Warren noted the role is a great opportunity not only for them both to grow, but also showcase their talents.
"They each bring their own uniqueness to the role," added Cook.
Lyra performs April 21 and 29 while Arianna takes over April 22 and 28.
As an added bonus to the production, Lindsay Little Theatre has arranged to have author and British Home Children advocate Sandra Joyce for a question-and-answer period after the April 22 and 29 shows. Joyce, who is vice-president of British Home Child Group International, discovered both her father and uncle were sent to Canada as home children.
She was instrumental in the British Home Children receiving an official apology in the House of Commons on Feb. 16.
Show time is nightly at 8 p.m. Tickets for Homechild are available from the Academy Theatre for Performing Arts box office, calling 705-324-9111 or via www.kawarthatickets.ca.