British Home Child Group International's Sesquicentennial Memorial 2017 BHC Quilt
Unveiling of the BHCGI's Quilt
 To celebrate Canada's 150th birthday, we were pleased to take part in an extensive two-week exhibit of British Home Child artifacts at Newmarket's newly renovated Old Town Hall. The exhibit will opened on April 1st at noon with a presentation and the unveiling of our Canada's 150th British Home Child 2017 Memorial Quilt. We were honoured to have been invited to have our exhibit in Newmarket's most treasured cultural and historic landmark, The exhibit was open every day from noon to 8 pm.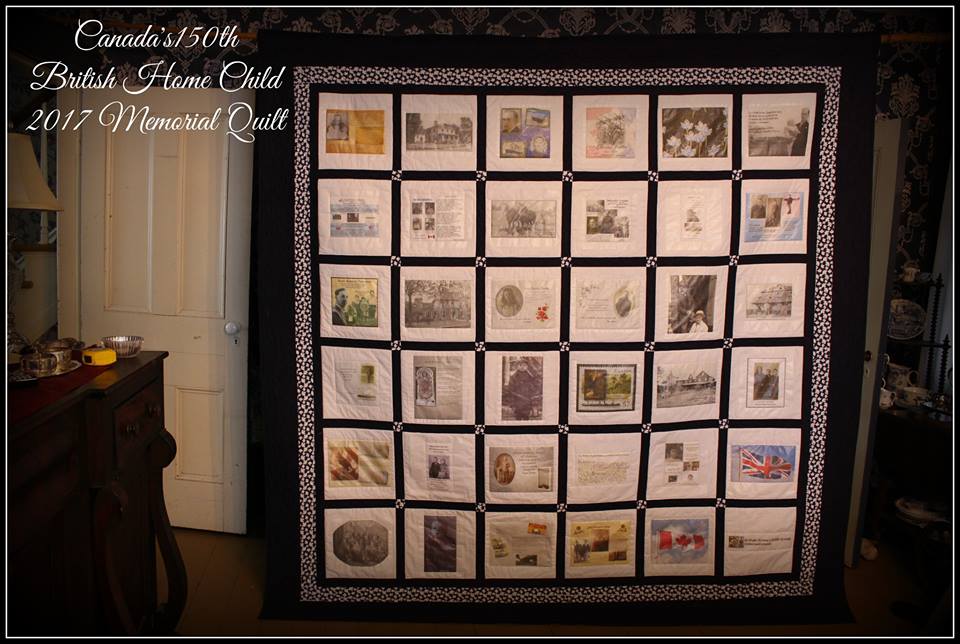 Making the Ontario and Alberta Quilts
by Gail Collins, Ontario and Hazel Perrier, Alberta
Gail writes: 2010 was the Year of the British Home Child in Canada. What better way was there to educate the public and tell our Home Children stories than to make a memorial quilt so that their legacy will live on after us.
2010 Year of the British Home Child Canada
Ontario Memorial QuiltDesigned & Prepared by: Gail Diane Collins,
St Catharines, OntarioSewn by: Sylvia VanGeest,
"Seams Like Yesterday"
Grimsby, OntarioQuilted by: (machine & hand) Carol Cunningham,
"The Quilt Batt",
Beamsville, Ontario

Finished: July 2010

2010 Year of the British Home Child Canada
Alberta Memorial QuiltDesigned & Prepared by: Hazel Perrier
Claresholm, AlbertaSewn by: Hazel Perrier
C;laresholm, AlbertaQuilted by: (machine ) Joan MacKin
"Quilt in Time"
Claresholm, Alberta

Finished: May, 2010
Saturday morning, January 9th, 2010, I started drawing sketches of what I envisioned the quilt could look like. By late afternoon an email was forwarded to me about another lady who also had the same idea and vision. It was then that Hazel Perrier of Claresholm, Alberta and I collaborated to work together to get this exciting project going. First we had to see if enough people wanted to follow our dream. The whole project was accomplished by posting messages to computer generated mailing lists which then spread by word of mouth. February 9th the project started. Hazel had volunteered to sew the finished squares together that people sent her. To allow more people to participate, I offered to make squares for those willing to pay me to make one for them. A deadline was set for March 18th. One week more to March 25th gave us a few more squares that would complete a row for the quilt Hazel would sew together. By April 7th we realized the quilt project was getting too large for one person to handle. This worked out perfectly as Hazel and I each had enough squares to make separate queen size quilts.
Starting with the two centre white squares, this quilt has a story to tell: our Home Children's arrival to Canada 1869 to 1948, ending with 2010 Canada's Year of the British Home Child.
The surrounding ten red squares feature a few of the Canadian Homes where our Home Children first arrived, to rest up, before going to their first placements. The earliest arrival on the quilt is 1871, the last one 1941.
Besides our Home Children stories, two historical events took place that tells the story as we know it today and are featured on the quilt. On December 7th, 2009, MP Phil McColeman, Brant County, presented the motion, 2010 Year of the British Home Child in Canada, which was unanimously passed by Canada's Parliament. We owe our deepest gratitude and thanks to Phil, a descendant, who also is honouring his uncle Kenneth Bickerton on the quilt.
Hazel writes that she completed 15 of the Alberta Memorial Quilt Squares herself, and was pleased to show the Alberta Quilt for the very first time at her Uncle and Aunt's 60th Wedding Anniversary and who have just recently celebrated their 65th Annivesary. Hazel's Uncle Mac, was the youngest of her grandparents' children – both of whom were British Home Children.
On February 24th, 2010, Britain's Prime Minister, Gordon Brown, made an Apology to all former Child Migrants at Westminster Palace, London, England which ends the story as we know it today.
Seven people affiliated with Canadian Home Children groups participated: Maria Rye; Quarriers Canadian Family; Fairbridge Canadian Association, British Columbia; Hazelbrae/Barnardo, Ontario; Home Children Canada, Ontario; Quebec Co-Chairs Home Children Canada, and British Home Children and Descendants Association, Nova Scotia.
The 56 quilt squares on the Ontario quilt are from: 1 Alberta; 3 Quebec; 1 New Brunswick; 5 Nova Scotia; 5 British Columbia; 6 USA; 1 England, and 34 Ontario.
When you look at these two historical quilts, each with 56 squares, they have a total of 112 stories to tell, and are lasting mementos and keepsakes to keep our Home Children's legacy alive. The quilt Hazel prepared features the Home Child Stamp that Canada Post issued October 2010. The Memorial Quilt Book stories travel with the quilts.