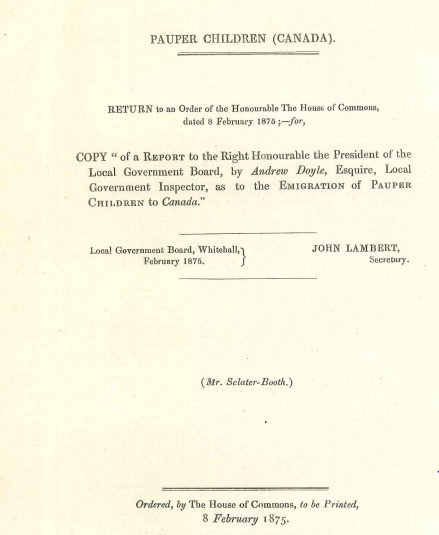 Click here to see a copy of :The Doyle Report
In 1874, an inquiry was initiated in England after unfavourable reports had reached that country about some of the children who had been emigrated to Canada through Miss Maria Rye's and Miss Annie MacPherson's Homes. There had been rumours of mistreatment, improper placement and supervision of children and suggestions that some philanthropists were personally profiting from public funds they had received.
The inquiry was conducted by Local Government Board Inspector Mr. Andrew Doyle who visited Canada to interview around 400 children and his report, published in 1875, expressed serious concerns relating to their welfare and aftercare.
Doyle was a senior inspector of the Local Government Board after having been an Inspector of the Poor Law for many years. Besides discharging his duties as an Inspector, he was often called upon to undertake work of a special and important nature, like vagrancy, pauper education and 'lunatics' and he drafted a detailed report entailing the sanitary conditions of his district after the passing of the first Public Health Act.
The children selected to be interviewed included the impoverished as well as 'arab' or street children and encompassed the very young up to the age of 15.
Doyle's 75 page report concluded that more discrimination and greater supervision was required in the selection of placements for the children. Although young children were frequently adopted, and generally well placed and treated with kindness and affection;  the majority of older children were placed in farm service and many of them suffered hardship, ill-treatment and deprivation. He thought that safeguards must be put in place to provide for their protection by suggesting the local government in Canada provide a system for visiting and supervising children. Local committees could be established and visits made by school inspectors.
He found that many children had not been visited for two to three years, and many others had been lost altogether. He recommended that girls should not be sent to Canada after the age of about 7 to 8 years. as older girls tended to suffer more than younger children from homesickness.
He found that providing they could find good homes for the young children, it seemed to be advantageous to send them to Canada. Finally, if the emigration of pauper children was to continue, they should be separated completely from those known as  'street' children.
In his report, Doyle singled out Miss Maria Rye mainly due to the inadequate supervising and placement of the children.
Despite this setback, Miss Rye continued her activities and over a 25-year period placed around 5,000 girls in new homes in Canada. In 1895, she handed over her home and her work to the Church of England Waifs and Strays Society.
William Quarrier was particularly troubled by the Doyle Report. He believed the children he was sending to Canada would become good future Canadian citizens. In 1897, after two years of reducing the numbers sent, William Quarrier stopped emigration to Canada altogether for the remainder of his life.
In 1904, with his daughters at the helm,  Quarrier's homes resumed child migration and continued until 1928. Between 1871 and 1928 Quarrier's Homes sent up to 7,500 children.
Doyle's report was rejected by the Canadian government, who then set up a Commons Select Committee on Immigration and produced its own report to demonstrate that child labour importation was both successful and beneficial. In 1884, the provincial governments were given the responsibility for supervising the child migrants.
In 1897, the Ontario government created the Act to Regulate the Immigration into Ontario of Certain Classes of Children, by which each agency was to be inspected quarterly and the children should be supervised until the age of 18. The Act also stipulated that all child emigration agencies were to maintain proper homes for the children and made it an offense to bring any child who was intellectually or physically defective or had been convicted of a crime. Similar acts followed in Manitoba, Quebec, and Nova Scotia.
Doyle retired from the Local Government Board in 1876, after 28 years' service, but continued, on the invitation of successive Governments, to discharge important functions including being a Royal Commissioner in Ireland. He died in December, 1888.