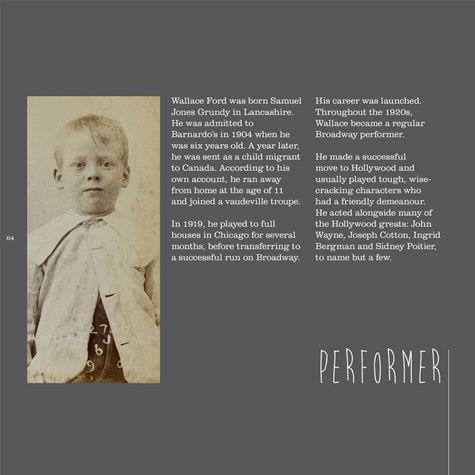 Wallace Ford's impressive career is even more awe-inspiring when considering the dreadful start to his life. Separated from his parents at a young age, Samuel Jones (his real name) was placed in Barnardo's at age three.
In 1905, at the age of seven, Samuel was sent to Canada to the organization's location in Toronto along with a group of 163 other children. Samuel was placed in 17 different homes before he ran away at the age of eleven after the last farmer he was with mistreated him. He then joined a Canadian Vaudeville Group, known at the Winnipeg Kiddies. He performed with this group for three years before leaving with a friend to ride  the rails in the United States.
Unfortunately, tragedy struck and his friend was crushed to death in a railway car.  At this point, Samuel Jones took his friend's name and became Wallace Ford. Under this name, he found work in theatrical troupes, repertoires and vaudeville.
During this time, he began his 21-year-long search for his biological mother, something that was unheard of at the time. The only information that he had was her name: Catherine Jones. By 1920, he started to work on Broadway and soon after he married his life-long bride, Martha Harworth. They had one daughter together: Patricia.
Wallace Ford got his Hollywood debut in 1932, signing a contract with MGM. He appeared in over 200 films alongside Joan Crawford, Bela Lugosi, Boris Karloff,  James Stewart, Richard Widmark and Henry Fonda to name a few.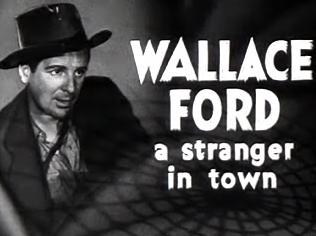 It was during the 1930s that Wallace found his mother through his film connections. Los Angeles police contacted Scotland Yard who narrowed the search to Lancashire. His aunt, Mrs. Mary Beddoes who originally placed him in Barnardo's, came forward and identified his mother, Catherine Jones, known locally as "Mam Kit". She was living with her husband, a match seller, known as Blind Dan in a trailer beside a river in Cheshire, England. Wallace visited her, his actions garnering world-wide attention, and bought his mother and her husband a little house. "She has had a hard life, " he said.
Wallace Ford played a number of character roles throughout his career, acting in 'B' horror films before graduating to Westerns. He had roles in five of John Ford's films and also was in Alfred Hitchcock's film, Shadow of a Doubt. Wallace also appeared alongside Henry Fonda in a TV series, The Deputy and on the Andy Griffith Show, as well. Wallace's last appearance as Old Pa was with Sidney Poitier in the highly successful A Patch of Blue before his heart gave out in 1966, shortly after his wife Martha passed away.