The S.S. Mongolian was built in 1890 in Glasgow by D & W Henderson Limited for the Allan Line with the intent to carry those immigrants fleeing poverty in Britain to the 'New World'. She also carried cargo and the Royal Mail.
Built during the time when ships were transitioning from sail to steam, she was fitted out with two 100 foot masts to raise sails should the need arise to supplement her engines.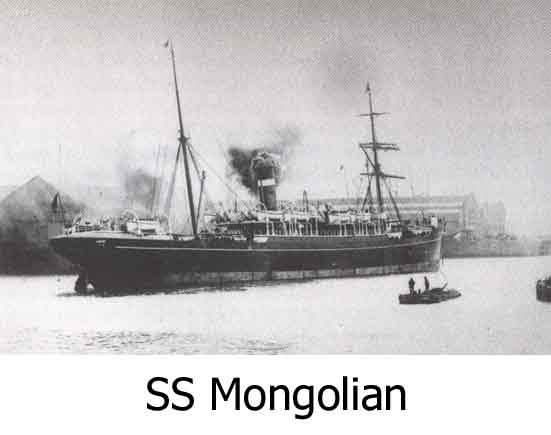 The S.S. Mongolian was first launched on November 13 of 1890 and three months later, she made her maiden voyage from Liverpool to Halifax and Portland.
Between April 1891 and 1913, 1507 British Home Children were sent to Canada on her decks according to the Canadian Library and Archives database.
In 1915, the SS Mongolian was purchased by the British Admiralty and was armed defensively.
Like many other ships during the wars, even though she was a civilian ship, she was torpedoed and sunk on the 21st July 1918.  She was carrying a load of coal. some five miles off Filey Brigg, a long narrow peninsula situated about a mile north of Filey, North Yorkshire.
The German submarine was laying mines at enemy ports along the coast when she spotted the big, slow Mongolian.  A torpedo was let loose and ripped into the side of the ship and sea water rushed into the hole near the boiler room. The engines stopped and the call to abandon ship was given.  Thirty-six of her crew members drowned.
Some of those crew members' names are on the monument at the Memorial at Tower Hill in London, England. The Tower Hill Memorial commemorates men and women of the Merchant Navy and Fishing Fleets who died in both World Wars and who have no known grave. It stands on the south side of the garden of Trinity Square, London, close to The Tower of London.
In the First World War, the civilian navy's duty was to be the supply service of the Royal Navy.  Troops, supplies, raw materials and food were transported by them. Losses of vessels were high from the outset, but peaked in 1917 when the German government announced the adoption of "unrestricted submarine warfare". The subsequent preventative measures introduced by the Ministry of Shipping – including the setting up of the convoy system where warships were used to escort merchant vessels – led to a decrease in losses. but by the end of the war, 3,305 merchant ships had been lost with a total of 17,000 lives including the SS Mongolian.