British Home Child Trunks
Rick Olley's Grandfather's Annie MacPherson Trunk – going to Stratford, Ontario
A Two by One Foot Box
This is the box that held all Rick Olley's grandfather's belongings when he was shipped from England to Canada aboard the SS Tunisian in 1908, at the age of 8. He was a British Home Child and had been living in an institution in London for vagrant children from 1906 until 1908. The lettering on the box says A. (Arthur) Olley, GTR (Grand Trunk Railway), No. 21, Miss MacPherson Stratford Ontario Canada (the Receiving Home where he stayed for two months before a farmer picked him out of a line-up of boys to work on a farm). He never talked about this. The only two things Rick ever heard from his grandfather was "England wasn't a very nice place back then" and "the wind blew my cap off into the sea" (a big loss, Rick imagines when all you own is packed into a 2 by 1 foot box).
Mary Kinsley's Quarrier Trunk – going to Brockville, Ontario
Not wanted
Many British Home Children struggled their whole lives  wanting to belong somewhere.  Uprooted from their home country, perhaps abandoned by their parents and then sent to strangers in a foreign country, they sought to find their roots or at least, establish some.
Mary Kinsley, although she lived with and was 'adopted' – there was no legal adoption at that time –  by two kind yet elderly parents, was constantly reminded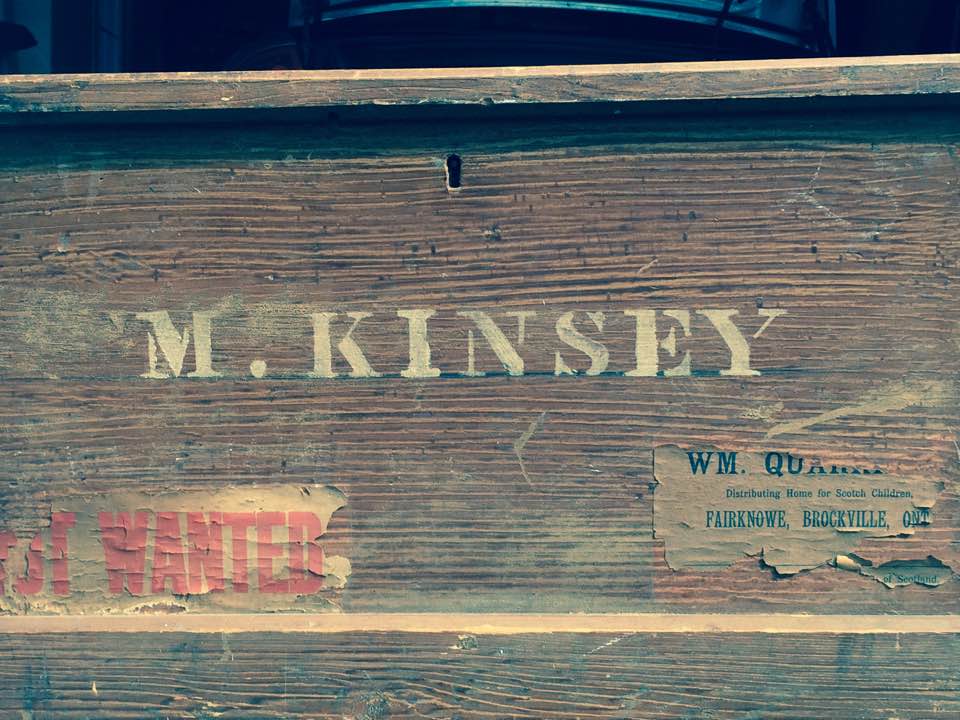 that she was not desired in her homeland by the huge sticker on her trunk that said NOT WANTED in red letters.
Although the label actually meant that the trunk was not required by the girl on her voyage to Canada and was to be stowed in the hold, the four-year-old girl took it personally and the message followed her throughout her life.
Mary was sent to Canada, along with her sister Janet, arriving in Brockville in 1894, in a group of 117 girls and accompanied by Mr and Mrs. Burges – daughter and son-in-law of William Quarrier.  Six days later, the two girls were handed over to the Holiday family of Rawdon, Quebec.  Four days after that, Mary was settled with the Hamilton family, also of Rawdon.
According to Daniel Parkinson, Mary's grandson and author of an extensive historical account of Rawdon's history, both girls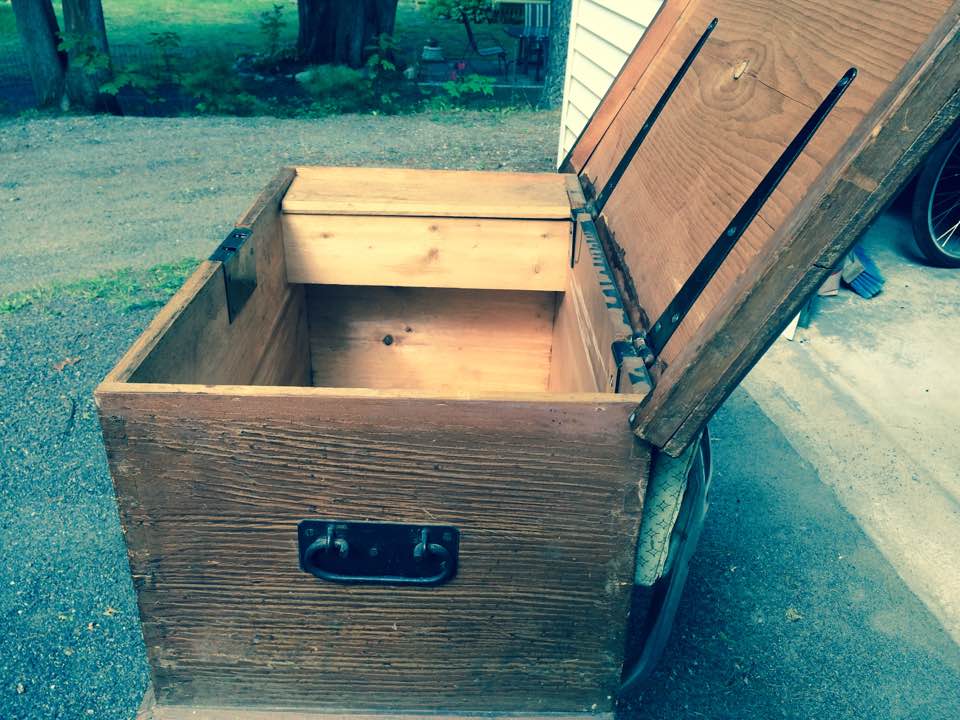 were indentured to the Haliday (sic) family and the contract was changed to read 'them' instead of 'her'. The Hamilton name is not mentioned and the terms of the indenture strictly stated that the children must not by transferred to any other person without knowledge of Quarrier's. However, there is no documentation of such a transfer in Mary's Quarrier file.
There is only speculation as to why Mary ended up with the Hamiltons. Perhaps the Holiday family didn't want the responsibility of two young girls or the Hamiltons were considered to be too old, being more the age of grandparents.  Janet was seven.
According to Parkinson, a letter from William Quarrier published in the Brockville Recorder in 1896 outlines the determining factors of a successful application for a child in their care:
"Anyone wishing to get a young child should write…enclosing a minister's reference and railway fare to Fairknowe Home, Brockville Ontario…we shall have our lists made up before the children arrive. Parties intending to come for children will be notified in good time when to call, as we shall be too busy for the first few days to attend to them."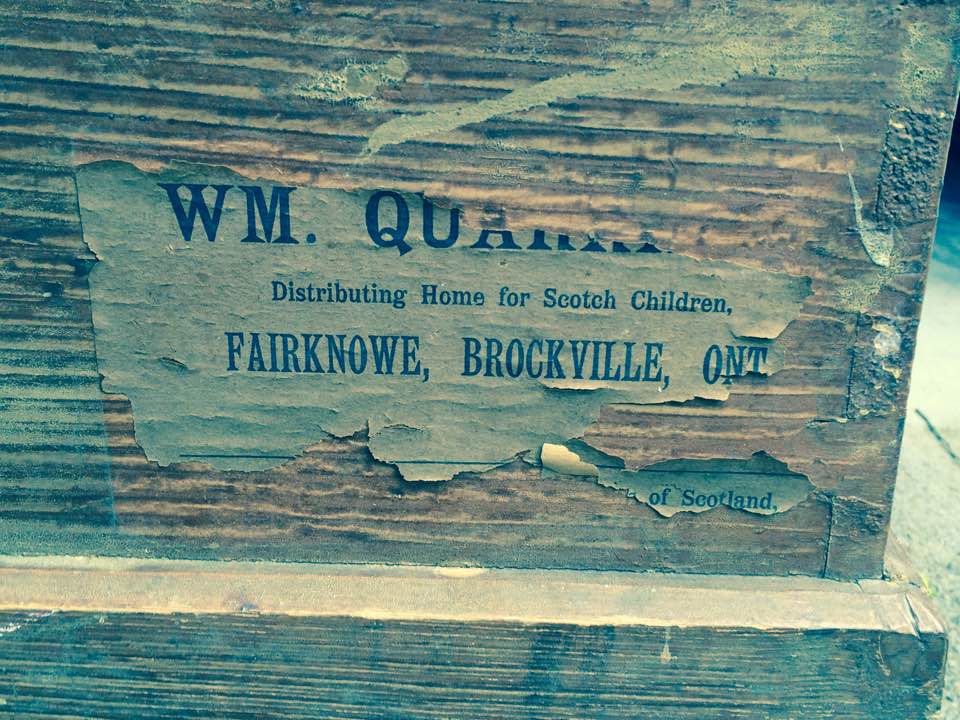 The terms of indenture agreed to by the person where the child was being placed was to ensure that the children have good clothing, treat them as one of the family and that they were to be able to earn wages. The terms also stated that they were to go to Church and Sunday School regularly and Day school for the full session yearly. The child was required to write to Fairknowe at least once a year and also notify them of changes in address and sickness.  If the child was to be returned, the terms for such were outlined.
Mary had a good life and was baptized by the Hamiltons at the Anglican Christ Church in Rawdon in 1895 and was given the names Mary Margaret Kinsey Hamilton in recognition of her 'adoptive' mother, Margaret Kirkland Hamilton.
She was given music lessons and a Thomas organ was bought for her to play.  Occasionally, when she was older, she would play for services at the Church of the Advent in Wexford.
After Mrs. Hamilton died in 1916, the house was inherited by Mary and was frequently used as a summer home. It has been since demolished.
 In 1927, Mary requested personal information from Quarrier's and received her birth certificate. Mary Quarrier replied that, "your father was said to be careless and indifferent and unable to care for you. The fact that he never enquired about you shows that this statement must have been true."  Although she mentioned his remarriage, she discouraged Mary from advertising for her father as 'there have been so many changes…that I fear that you will not get any particulars."  She did either not know that Mary's father had been dead for almost a quarter of a century or did not want to give Mary this information.
Mary had seven children with her husband her husband Edwin Parkinson, although the youngest died a month short of her second birthday. Her second child, Llewella Daisy and mother of Daniel Parkinson remained with her grandparents in Rawdon when Mary and Edwin moved to Montreal.
She died in Montreal in 1958 but her body was returned to Rawdon and is interred in the Hamilton family plot.
James Paterson's Quarrier's Trunk can be viewed in the Athens Museum in Athens, Ontario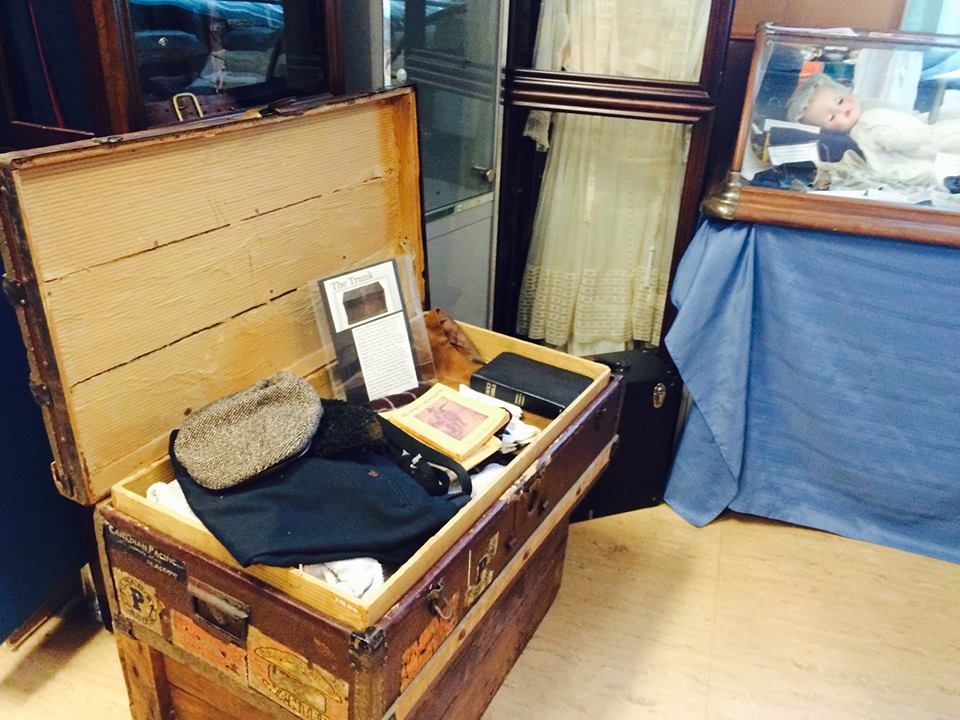 James Paterson
Born in Ayr,  Scotland in June 1908, James Paterson was sent to Canada by the Orphan Homes of Scotland (Quarrier's) in 1923 at the age of thirteen.
 "I was 13 and weighed 84 pounds when I came…quite a hired man!  They just shipped me out and I had no say in the matter. I was most scared and I didn't know where in the hell I was going and I didn't know anything about Canada. I never saw snow until I came here, but have been putting up with it all these years. I stayed with Jack and Stella Hinton in Rocksprings for seven years, working 16 hours a day for $4 a month.  I loved the work. Stella fed me well and fussed over me. I called her mother. I never married, maybe because I'm too damn particular!  I didn't get the one I wanted, so I said the heck with them all!" said Jimmy Paterson in 1997.
From 1953, he worked at Brockville Psychiatric Hospital until his retirement in 1973.
On August 1997, two memorials were unveiled in Athens Memorial Park. James Paterson had them made to honour the children who arritved from the Quarrier and Barnardo Homes in Great Britain.
Mr. Paterson wanted to be sure that these children were not forgotten. Each monument has a picture and a plaque. One has a reproduction of a black and white photograph of a group of children at the Fairknowe Home ins Brockville. Fairknowe was the first destination in Canada for many, including Mr. Paterson.  The inscription notes that they came to be knowen as Canada's Little Slaves.
A colour painting adorns of an immigrant homestead adorns the other depicting the 100 acre farms that so many were placed on. The words pay tribute to the immigrants that worked hard clearing the land and raising their families.  He died in August, 1997.  
Frederick Williams' Gibbs Trunk – going to Sherbrooke, Quebec
The Home Child box housed in the collection of the Missisquoi Museum was owned by Frederick Erasmus Charles Williams. He was born in Farnham, Kent, England on February 19, 1897 to Erasmus and Agnes Williams.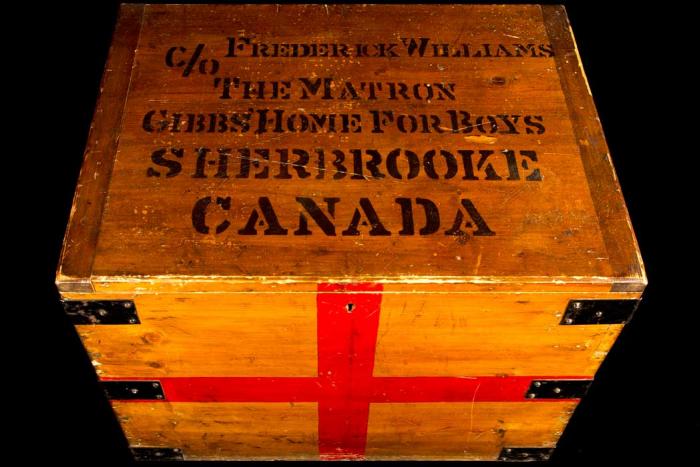 He was not an orphan when he boarded the "SS Victorian" at the age of 15, along with 23 other boys. Everything he owned was packed into a lacquered pine box painted with a red cross on all four sides and stencilled with his final destination, the Gibbs Home, and in the care of "the Matron," probably the long-serving Margaret MacIver. He arrived at Quebec on June 14, 1912, and was placed under the direction of Thomas Keely. Frederick Williams began working for Edward Knott as a farm labourer in West Shefford, Quebec, by the summer of that same year. The following year he was moved to Cowansville, Quebec, where he worked for Bruce Miner from 1913 to 1917.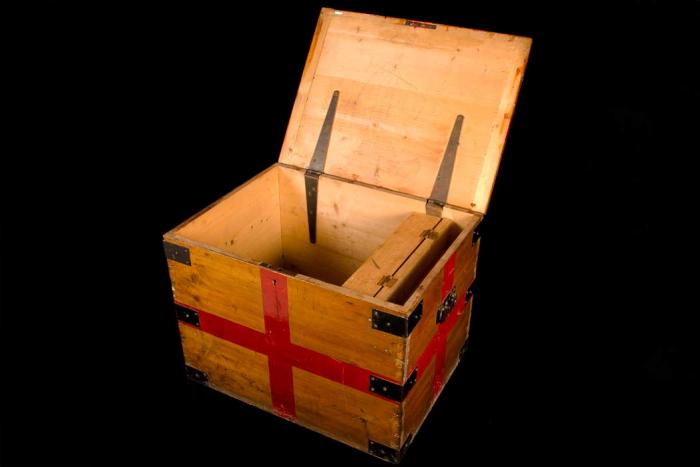 On June 14, 1917, Frederick joined the Canadian Expeditionary Force and served as a gunner in the 7th Brigade Canadian Field Artillery. On his attestation paper, Frederick listed his home address as the Gibbs Home and his next of kin as Thomas Keely. Frederick died from Spanish Influenza on December 3, 1918, at the age of 21. He was buried in Valenciennes Cemetery, France.
Images and text courtesy of: Missisquoi Museum  2 rue River, Stanbridge East, QC J0J 2H0 www.missisquoimuseum.ca
Postcard of Barnardo Boys Making Trunks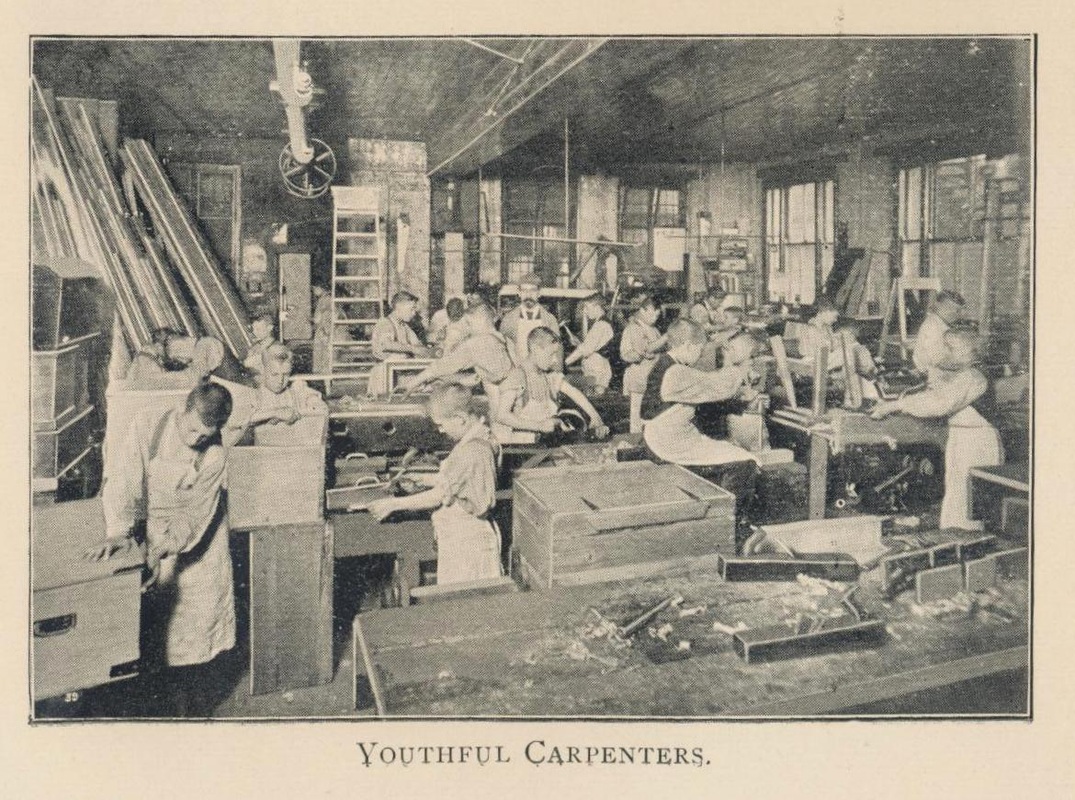 Packing/inspecting trunks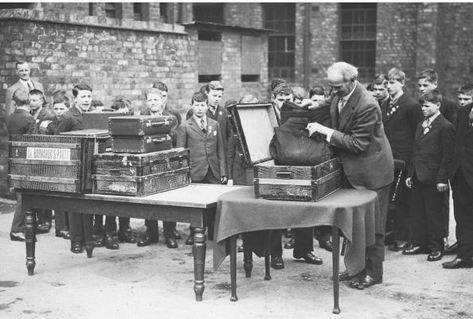 Contents of a Maria Rye Trunk  – Girls Outfit for Canada 1894
Maria Rye Trunk

3 pairs of drawers 1 : 6
3 night gowns
3 chemises 2 : 0
2 cotton petticoats with tops 1 : 4
2 flannel petticoats with tops 3 : 0
3 pairs cotton stockings 2 : 0
3 pairs warm stockings 3 : 0
2 cotton frocks 4 : 0
2 Lindsey (?) frocks 6 : 0
2 warm petticoats 4 : 0
1 warm brown Ulster* 11 : 0
3 pinafores or aprons 1 : 0
1 straw hat for Sunday 3 : 6
1 straw hat for travel in 1: 6
2 pairs of boots 11:00
3 pocket handkerchiefs 1 : 0
1 brush & comb & bag 2: 0
1 bible & prayer book 2 : 0
1 box – addressed 6 : 0
Canvas bag 1 : 0
Total £3 :10s :10d
* dictionary defines an Ulster as "A long loose rough overcoat, often with a waist belt"