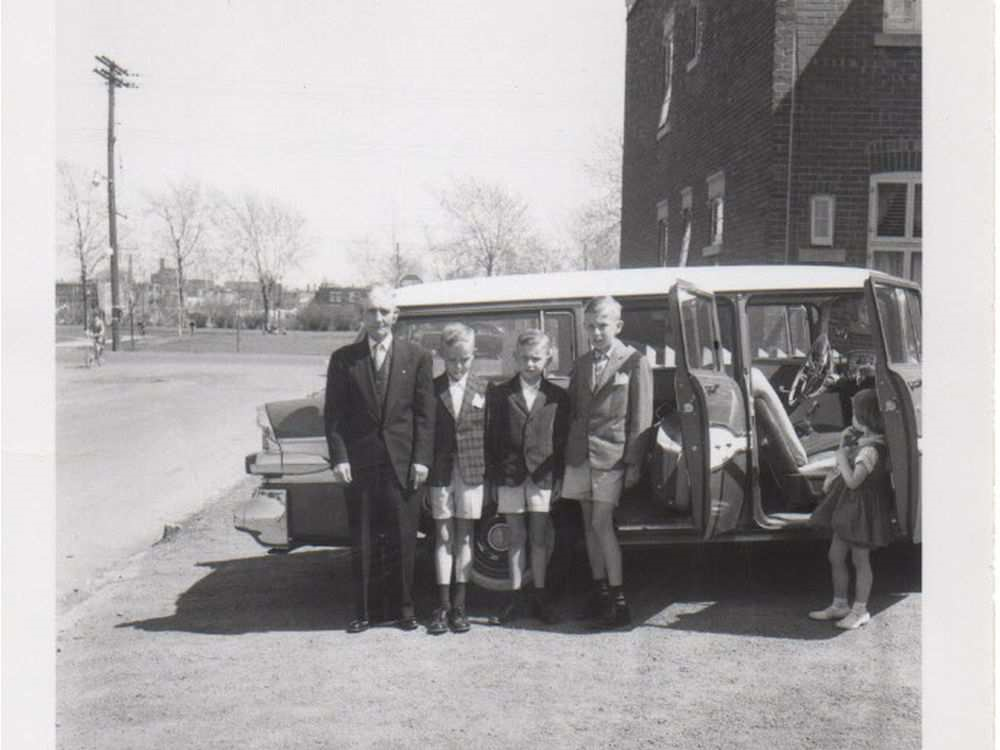 Gilles Duceppe's maternal grandfather, John James Rowley, was a British Home Child. The former leader of the Bloc Québécois as well as former Leader of the Opposition of Canada's Parliament, remembers his grandfather vividly as his family lived with him for ten years.
"My father (Jean Duceppe) was an actor, and he wasn't very rich back then," Duceppe recalled in a recent Montreal Gazette interview. "We were living in a four and a half room apartment with my parents, grandparents, an uncle, an aunt, me and my two brothers."
"I had no idea about what my grandfather had gone through back then. He never said a word," Duceppe continued.
John James Rowley was born in England to Irish parents.  He was orphaned when his mother committed suicide due to alleged spousal abuse and his father fell into the Thames and drowned after binge drinking.
Rowley was taken in by the Poplar workhouse in London.  However, he was emigrated to Canada in 1906 by the Catholic Emigration Association at the age of 16.
Rowley arrived at the St. George's Receiving Home in Ottawa but as Catholic organizations wanted the children they brought to Canada to remain Catholics, most were sent to farms in Quebec.  Rowley was indentured with a family in St-Benoît-du-Lac.  Although Duceppe says his grandfather was lucky and ended up with a good family, he experienced extreme loneliness as he could speak no French and the family he was placed with spoke little English.  He would often visit the First Nations Reserve nearby, just to speak his native language.
Duceppe only found out about his grandfather's past in 1991, after he was elected to Parliament. Many Canadian across the country spoke about the Home Children to him and it was then, that he began to think that his grandfather was one of them.
Duceppe was quick to discover that thousands of British Home Children were sent to Quebec and the rest of Canada. "It is estimated that perhaps between 10 to 12 per cent of the current population of the country could have roots that go back to the Home Children. There was and is still a lot of shame and survivors' guilt."
In 2009, Duceppe supported a motion introduced by MP Phil McColeman, whose uncle was a Home Child, to declare 2010 British Home Child Year in Canada.  He felt there should be more. He wanted the House of Commons to apologize.
It wasn't until Duceppe met with Sandra Joyce, Karen Mahoney and Carolyn Perkes of the British Home Child Group International that he was absolutely sure his grandfather was a Home Child. Joyce was in Montreal to deliver a presentation at the Atwater library and during a CTV interview, was introduced to Duceppe.  After the interview, BHCGI's Karen Mahoney presented a detailed dossier to Duceppe and his sisters Louise and Monique.  
The need for an Apology was discussed at length and the Duceppe family were told of the BHCGI's efforts to obtain one:  emailing information sheets to all MPs, phoning their offices and asking for support. Thousands of written signatures and email signatures had been collected by the group and others. Duceppe and his sisters, signed an epetition started by BHCGI. Duceppe's interest in obtaining an Apology was reawakened.
Duceppe was already intent on preserving the history of the British Home Children by showing a play,  Ne m'oublie pas  – Forget Me Not – based on the ordeal of a British Child Migrant who ended up in Australia, which played at Théâtre Duceppe.
Just before its opening, he began lobbying the political parties in Parliament, even making personal phone calls to Prime Minster Justin Trudeau. After some negotiation, a compromise was reached on Feb. 16 and in a motion unanimously passed by members of the House of Commons, Bloc Québécois MP Luc Thériault prevailed on the House to recognize the injustice, abuse and suffering endured by the British Home Children as well as the contributions of these children and their descendants within Canada. The motion was seconded by Liberal MP Judy Sgro, NDP MP Jenny Kwan, Conservative MP Mark Strahl  and Green Party  MP Elizabeth May. The full Apology may be seen on our Youtube channel (Link) and on our website: https://britishhomechild.com/apology-petition/