Mrs. Louisa MacPherson Birt.
"Picture the grey, rolling North Atlantic; the crowded steerage and decks of the steamer laden with emigrants. Under a lifeboat, screened from the wind and spray by a stretch of canvas, sit the group of children in their warm coats and caps or hoods. Singing, stories, recitations, friendly talks, interspersed with drills or skipping and races, occupy the time. This voyage of eight or ten days is of incalculable benefit to the city-bred children, bracing and strengthening them after a winter's training, and giving them a healthful relaxation of play and rest before they start out on their new careers." The Children's Home-Finder by Lillian Birt, (London:1913)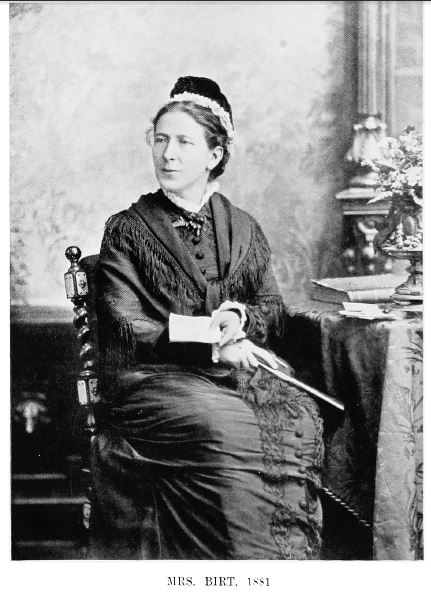 Louisa Caroline MacPherson, the youngest daughter of Scottish teacher James MacPherson, was often taken, along with her siblings, to his speaking engagements. During these lectures, Louisa listened to their father speak about the moral responsibility God-fearing people had to those less fortunate. At home, Louisa experienced this belief first hand as the MacPherson family fostered two orphaned girls.
Soon, Mr. MacPherson, who was a member of the Society of Friends (Quakers), was asked to move his wife and seven children to England to establish schools on the estate of Lady Lovelace. Ada Lovelace, the daughter of Lord Byron, died of uterine cancer at the age of 36 and in the last months of her life, underwent a religious transformation under her mother's influence and made her the executor of her will.
At the estate schools, the pupils learned to read and write, as well as learning about nature and household and industrial training.
In 1858, Louisa married Charles Henry Birt, a merchant in the City of London, at the age of 17.  However, happiness in her married life eluded her. Two of her eldest children passed away and her husband was left an invalid by a railroad accident.
Louisa and Charles hoped that travelling to a more favourable climate would improve Charles' health but after Louisa's bouts of rheumatic fever and malaria, it was imperative for them to return home.
To rejuvenate her, sisters Annie and Rachel, who had begun working with the poor in London's Bethnal Green, invited their sister to join them. Her duties were light at first, singing to widows and children but soon evolved into working with the young, even chaperoning them to Canada to find living situations for them.
Meanwhile, in the late 1860s, inspired by the work of Louisa's sister Annie with the poor in London, a group of major ship-builders desired to improve the lot of the destitute in Liverpool. Alexander Balfour, Stephen Williamson and John Houghton were appalled by the living conditions of the poor in their city and considered it to be worse than London.  They invited Annie to speak but she sent her sister Louisa in her stead, citing too many prior commitments.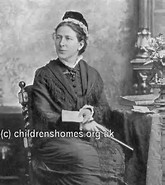 As a result of this meeting, The Liverpool Sheltering Homes were opened on May 1, 1873 and were housed in Byrom Hall Baptist Church. The purpose of the Homes was to rescue destitute and neglected children, train them in the care of the home and then send them to a new life in Canada accompanied by guardians. They were to stay at the Marchmont House in Belleville, Ontario, before being placed and indentured until they were 18. Louisa Birt was to spearhead the organization.
Read more about the Knowlton Receiving Home by clicking on this link.
Louisa Birt had found her calling –  helping impoverished children. She made sure outfits were sewn, cleaned and cared for the children and accompanied every group of children to Canada. While there, she also spent time visiting previously placed children.
In 1877, after Louisa's sister Annie no longer required the use of the Knowlton Receiving Home, the Liverpool Sheltering Home sent the children there. When Louisa's health failed her in 1911, her daughter Lilian Birt took over the running of the Homes.