Senator Billa Flint from Belleville was one of Annie MacPherson's staunchest allies and friends from the beginning of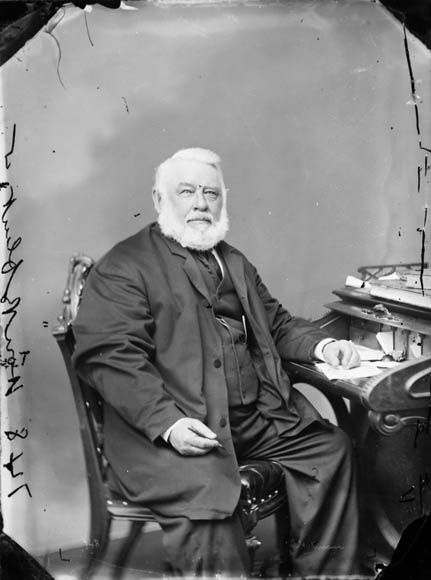 her work in bringing British Home Children to Canada. He was instrumental in helping her raise funds to provide a receiving home, called Marchmont, and supported her when she was under scrutiny by the British and Canadian governments.
When allegations of mistreatment, improper placement and supervision of children reached Britain, an inquiry was launched by the British government . Inspector Andrew Doyle was sent to Canada to report on the children's welfare and aftercare. Issued in 1875, Doyle's report was scathing and although singling out Maria Rye for inadequate supervision and placement of the children, Mr. Doyle also mentioned Annie MacPherson. The Canadian Government immediately set up their own Commons Select Committee on Immigration to produce its own report.  Senator Flint was one of the influential people called upon to testify.
The Senator stated that, although originally there had been some fear in the community around Marchmont of pilfering, noise and disturbance, he had only heard praise about the children being well-behaved. In fact, they never caused any trouble at all, not even picking apples from the well-loaded trees. Senator Flint went on to say that, when Andrew Doyle visited him with the intent of discussing immigration, he was convinced that Doyle had already made up his mind to represent the dark side of things to the exclusion of all others.
Senator Flint also testified that Annie MacPherson's work should not have been mixed up with that of Maria Rye, as they were both quite different.
The Commons Select Committee's findings that were that child labour importation was both successful and beneficial to Canada. The child emigration scheme was allowed to continue.
Senator Billa Flint was a very prominent citizen in his adopted city of Belleville: principal founder of the Canadian Temperance League and previous Mayor, he was also twice-elected MLA for Hastings County in the Ontario Provincial Parliament. He began working at age 11 with his American born father who was a hard-drinking Brockville merchant and hotel-keeper. However, he left for Belleville in 1929 to set up business because he objected to the sale of liquor at his father's store.
Flint immediately saw Belleville's potential and great location on the Bay of Quinte. Soon, he began to transform the mouth of the Moira River with wharfs, warehouses and a steam sawmill and drew on the forest resources from the surrounding area. Due to his success, he was appointed a magistrate in 1836 and made president of Belleville's Board of Police.
Flint not only developed flour, oats and barley mills on the tributaries of the Moira River. He also erected sawmills, started a furniture factory and machine shops as well as speculating in a short-lived gold rush in Madoc Township.  Flint also was responsible for the extensive harvesting of the forests in the area.
Flint became involved with various transportation schemes. He invested in steamship companies and built roads.  He called for improvements to the St. Lawrence River and in 1868 he headed a delegation to promote the construction of a channel between the Bay of Quinte and Wellers Bay (the Murray Canal).  Flint supported a railway to link Belleville and Marmora via Tweed and Bridgewater, but it didn't come to fruition. The following failure of Toronto and Ottawa Railway provided a serious blow to his businesses.
He acquired the mills owned by James Cleak at York Mills and a few years later was successful in having the village renamed Bancroft in honour of his mother-in-law, Elizabeth Ann Bancroft. However, by 1883, fires, railway failures, and advancing age contributed to Flint's mostly retiring from active business.
Flint had voted against confederation in 1865 because of his opposition to a non-elected senate, to separate schools and government financing of the Intercolonial Railway. However, he was still made a Senator and remained so till his death in 1894 at the age of 89.