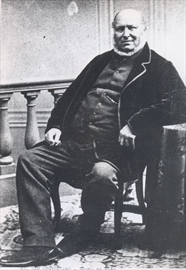 Samuel Strickland
The jury is out on how much influence long-time Lakefield, Ontario resident, Samuel Strickland, had on the beginnings of the child migrant scheme. One thing, however, is sure. His book, Twenty-Seven Years in Canada West (present-day Ontario), published in the UK in 1853, stressed the importance of emigration. He pleaded with the British Government to send those in the workhouse, as long as they were willing to work, what could be a comfortable life, independence and a peaceful old age in the new country.
He continued by saying that those who were idle, rich or sickly would not benefit by emigration whereas those of a hardy industrious nature could reap the fruits of their labour.
Strickland also believed that the industrial schools and ragged schools in the UK should be training their children in the skills necessary for their new lives in Canada. The boys should be trained in animal husbandry and the girls taught how to milk cows and make butter and cheese.
He also made clear in his book that the British government should be commissioning ships to bring the children to Canada and set up depots in places such as Montreal, Quebec City, Kingston and Toronto to facilitate the care and placement of the children. Matrons and Governors should be put in charge of these d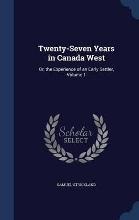 epots and see to the terms of their apprenticeships.
Born into a wealthy English family of eight children in 1804, Strickland's life seemed mapped out. However, his father died soon after suffering a financial disaster. Strickland was just 14 and so, as the only male child, effectively became the estate manager of his mother's property in Suffolk. A few years later, in 1825, he received an offer from a family friend, Colonel Black, to emigrate to Darlington in Upper Canada. After a few months, Strickland married his sponsor's daughter, Emma Black.
Strickland purchased 200 acres in Douro township near Peterborough, Ontario but tragedy struck while he was clearing and cropping his land. His wife died in childbirth and his son lived only three years. In 1827, he remarried Mary Reid with whom he had 13 children.
After marrying Mary, he took a job that was offered to him by John Galt with the Canada Company as an engineer where he was involved in the development of Guelph. He managed the company's stores, kept the labour rolls, and superintended the building of roads and bridges.
The Canada Company had been formed in 1826 to populate what is now known as Southern Ontario. A supporter of Galt, Strickland also left the company soon after Galt was dismissed and recalled to Britian for his poor accounting skills and failure to carry out the company's established policies. Interesting to note that one of Galt's sons later emigrated to Canada and became one of the Fathers of Confederation and Canada's first Finance Minister.
In 1832, Strickland moved back to the Douro Township and bought new land eight miles away from his original purchase. His already published sisters Catharine Parr Traill and Susanna Moodie had also emigrated from England and settled in the same area. Their seminal books on emigration were respectively called: The Backwoods of Canada (1836) and Roughing it in the Bush (1853). Both Traill and Moodie painted a picture of the hard life of Canadian emigrants.
Strickland stayed in Lakefield. He was a justice of the peace, and was president of the Court of Requests. He supported the construction of Lakefield's first mill, its bridge over the Otonabee River, and its first passable road. He also established an agricultural school where, for a fee, young men were trained in the skills necessary for land-holding and farming in Upper Canada.
After the death of his second wife, Strickland visited England. He was encouraged by another sister, Agnes, to write his version of emigration to Canada. Agnes Strickland had become a very famous writer and had close connections to prominent and influential politicians, citizens and the Royal Family in the UK.
Agnes became the editor of Twenty-Seven Years in Canada West and while the book is candid in its description of the hard life of emigrants, it is also optimistic in tone and assures prospective emigrants that they will have a better life in Canada if they set their hearts and minds to it.
Whether Strickland's book influenced the idea of the child migrant scheme, will probably never be known. What we do know is that, in 1869, thirteen years after it was published, the first group of British Home Children were brought to Canada.