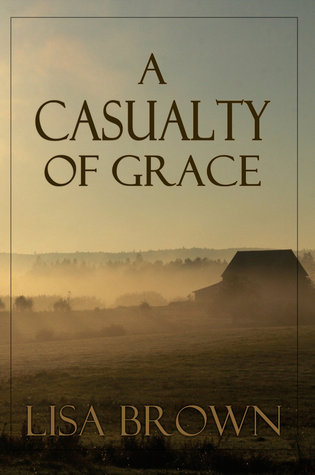 British Home Child Books compiled by Gail Collins, Sandra Joyce
A Casualty of Grace by Lisa Brown
is an historical fiction novel. It was 1895, and Oliver and Simon were on an ocean voyage to a strange land and an even strange future. Everything in their lives had changed when first their father died and then their mother followed in 1893.https://www.lisabrownbooks.com/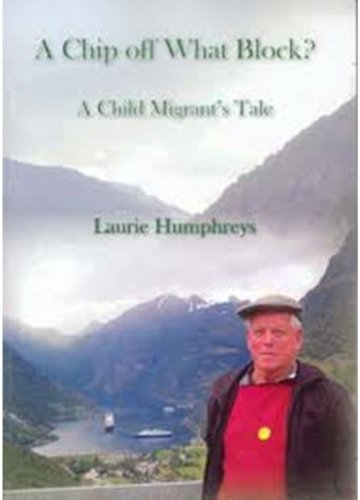 A Chip Off What Block? : A Child Migrant's Tale by Laurie Humphreys
Tells of the life of Laurie Humphries, a child migrant who lived his early life without a family, an orphan who lost touch with his brothers and sisters when he came to Australia, and of his subsequent hard life of ' work, eat, and sleep; then rise to become an long-time active council member. www.amazon.com
A Genealogists' Guide to Researching British Home Children by Gloria F. Tubman
Thousands of British Home Children were resettled in Canada between the 1870s and 1939. The social and economic causes that percipitated the export of orphaned and destitute children to Canada was a product of the times — the effects of the industrial revolution and a lack of an adequate social safety net being the largest contributors. The child migration initiative was supported by the governments on both sides of the Atlantic Ocean. This book is a compilation of articles and columns that Tubman wrote in an effort to inform those who are interested in British Home Children movement, and to provide researchers with the information needed to research records of individual Home Children. Most of the articles were originally published in The Equity newspaper of Shawville, Quebec. The Quarrier Homes of Scotland article was published in Anglo Celtic Roots, the journal of the British Isles Family History Society of Greater Ottawa. All are reprinted in this volume with permission from the The Equity and Anglo Celtic Roots. http://globalgenealogy.com/ Global Heritage Press, Ottawa, 2017
All My Worldly Goods by Maggie Wheeler
When Farran Mackenzie begins a genealogical search into her grandmother Evian's past, she finds more questions than answers buried in a murky chapter of Canadian history: the British Home Children. A visit from an unexpected family connection shines a new light on Evian's sudden death in the 1950s, suggesting a disturbing truth. When death arrives on the doorstep, Farran must use all her research skills to piece the past together—from the streets of WWI England, to rural post-war Ontario, to Depression-era Lost Villages and the origins of the St. Lawrence Seaway—before murder strikes again in real time. ($25.00) To order copies, Burnstown Publishing House.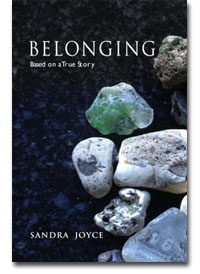 Belonging by Sandra Joyce
This is a stand-alone sequel to The Street Arab – The Story of a British Home Child which is now a National Best Seller. The story of their off-again on-again relationship is overshadowed by the intense fighting in Algeria and Italy and the bombing of London. The excitement, fear and battles of the War are recaptured by meticulous research and quick-paced action. The book finishes in Canada with Robbie as an old man with two generations of descendants to bear witness to his long journey from Scotland to Canada as a British Home Child and then proud Canadian veteran. Those with an interest in the 18th and early 19th century relocation of orphaned and poor British children to Canada will benefit from reading this book. ISBN 978-0-9737330-6-8 Welldone Publishing, Toronto, 2014http://globalgenealogy.com/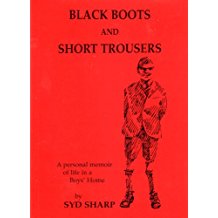 Black Boots & Short Trousers by Syd Sharp is a personal memoir of life at Stony Stratford Fegan's Boy's Home and the farm at Goudhurst Kent in the 1940's – gives you insights/ideas as to the routines (no matter what year?) He was not sent to Canada.At the end of his book is a short description by Dick Wright, a Home Child who lived in St Catharines Ontario who was sent out to Canada. www.amazon.ca
Bristol's Pauper Children – Victorian Education and Emigration by Shirley Hodgson
My book explores what happened to the children of the poor and those who lived on the streets of Bristol in Victorian times. The first group of Bristol children sent to Canada came from the Barton Regis workhouse in 1870; a hundred boys and girls were sent in the strong belief that they would have the chance of a better life. This books tells of what happened to them. www.amazon.com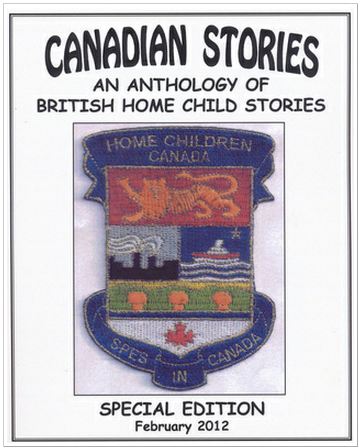 British Home Children Stories An Anthologhy Of, Special Edition – Ed Janzen, Editor, Canadian Stories magazine (sold out) A 2010 Year of BHC project, published 2012.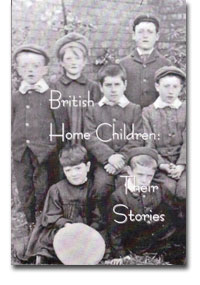 British Home Children: Their Stories Compiled by the British Isles Family History Society of Ottawa (BIFHSGO)
Published by Global Heritage Press, Milton, 2010 (CD 2013) Global Genealogy0,) Online Index of Their Stories and Names appear in the Index) (the Names Index includes anyone who submitted a story)http://globalgenealogy.com/
Caroline by Gloria Fiddler – the story of a girl who stayed at Hazelbrae in Peterborough.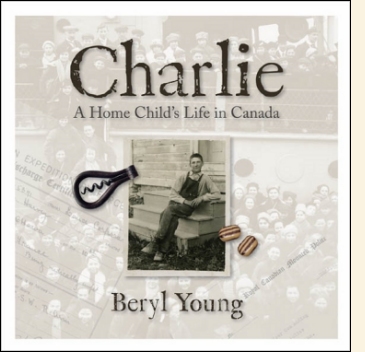 Charlie: a Home Child's Life in Canada by Beryl Young
Imagine it's one hundred years ago and you are thirteen years old, living with your family in England. When your father dies suddenly your mother must send her children to orphanages. Then imagine how it would feel to be called into the orphanage office and told you are being sent across the ocean to Canada. Ronsdale Press, 2011 IBSN 978-1-55380-138-2 In the UK, Gazelle Books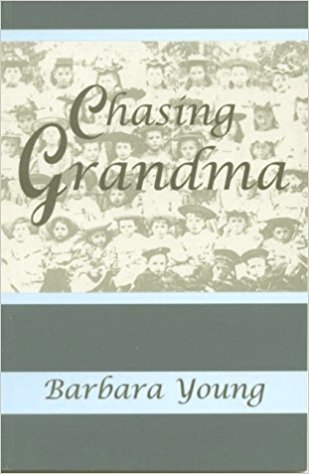 Chasing Grandma by Barbara Young, Shorleine Press Puzzled by the lack of information about her grandmother, the author begins a journey of inquiry that lasted ten years — to finally unravel her story. Katie, much beloved but silent about her past, is revealed as a Home Child, sent to live and work on an Ontario farm at the age of ten.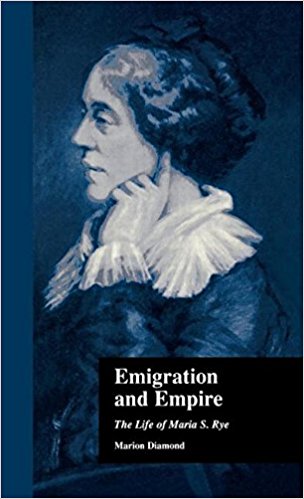 Emigration and Empire: The Life of Maria S. Rye by Marion Diamond
Maria S. Rye, a woman motivated by both feminist and philanthropic ideals, devoted her life to the migration of women and girls out of England. This biography gives an account of Rye's activities from her early engagement with liberal feminism through her association with the "Langham Place group" in the 1850s, her work as a journalist and with the Society for Promoting Women's Employment, through to her efforts in women's and children's emigration Between 1861 and 1896, Maria S. Rye sent many hundreds of single women out to Australia, New Zealand and South Africa, and more than four thousand children to Canada, all with the promise of a better life in the British colonies than they could expect at home in England. www.amazon.ca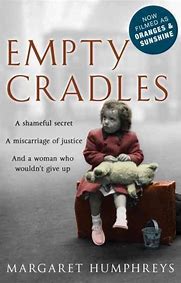 Empty Cradles by Margaret Humphreys
In 1986 Margaret Humphreys, a Nottingham social worker, investigated a woman's claim that, aged four, she had been put on a boat to Australia by the British government. At first incredulous, Margaret discovered that this was just the tip of an enormous iceberg. Up to 150,000 children, some as young as three years old, had been deported from children's homes in Britain and shipped off to a 'new life' in distant parts of the Empire, right up until as recently as 1970. Many were told that their parents were dead, and parents were told that their children had been adopted. In fact, for many children it was to be a life of horrendous physical and sexual abuse far away from everything they knew. Margaret and her team reunited thousands of families before it was too late, brought authorities to account, and worldwide attention to an outrageous miscarriage of justice.
Fegan – The J. W. C. Fegan British Home Children Newsletter Collection 1877 and 1920 By W.Y. Fullerton, D.D.
The J. W. C. Fegan British Home Children Collection CD includes digitized copies of ALL surviving Fegan Homes newsletters that were published between 1877 and 1920. More than 1532 searchable pages in total. The newsletters include much information about specific home children during their time in Fegan's care and after they became "old boys" as well as lots of pictures of individuals and groups. This collection is essential to everyone with an interest in the Fegan Homes in particular or the British Home Children movement in general. The narratives also shine a light on the human cost of the industrial revolution and J.W.C. Fegan's efforts to deal with its side effects. Similarly, this is a fine reference for those who seek insights into conditions and norms in rural and urban Canada that encouraged importation of indentured children during this time period. ISBN 978-1-926797-76-2(CD Edition)http://globalgenealogy.com/ Global Heritage Press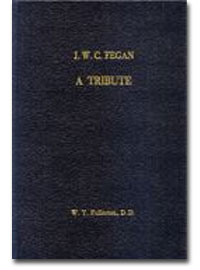 The life of James William Condell Fegan is presented by W. Y. Fullerton.
It tells the tale of a man who devoted his life to helping the poor in general, and the home children in particular. ISBN 1-894378-89-X Originally published in England, 1913. This edition published by Global Heritage Press, Milton 2003 New Foreword by Douglas V. Fry, Fawne Stratford-Devai (2003) New introduction by Marj Kohli (2003)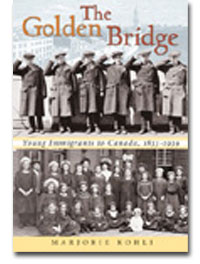 The Golden Bridge, Young Immigrants To Canada, 1833-1939 by: Marjorie Kohli.
Many thousands of Canadians are descended from young immigrants transported to Canada from 1833 to 1939. Author Marjorie Kohli has meticulously documented the incredible story of the removal of thousands of "waifs and strays" and young men and women, primarily from the UK and Ireland. They braved the perilous voyage to an unknown future in Canada, ultimately being placed throughout the Maritimes, Ontario, Quebec and westward as far as British Columbia. The most comprehensive resource of its kind, The Golden Bridge promises to be an indispensable tool for family researchers with a "home child" ancestor, and of interest to those unfamiliar with this aspect of Canadian history. This extensively researched book incorporates background detail on agencies and key organizers such as Maria Rye, Annie Macpherson, Thomas Barnardo and William Quarrier, along with lesser knowns including Ellinor Close and Charles Young. Marjorie Kohli is well known for her years of active involvement with juvenile and child migration issues. Supported by charts, passenger lists and archival visuals, The Golden Bridge is a must-read for genealogists and history buffs alikehttp://globalgenealogy.com/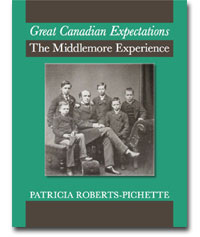 Great Canadian Expectations, The Middlemore Experience by Patricia Roberts-Pichette.
Over 100,000 neglected or homeless and often unwanted children from Britain were settled in Canada between 1869 and 1948 by more than 50 British juvenile emigration agencies. Because they came from an agency's home in Britain to be settled from the agency's distributing home in Canada, they were called home children. This is the history of one of those organizations, Middlemore Homes. This exceptional book is the result of fifteen years of research by the author and her volunteer collaborators. Unlimited access to all extant Middlemore files up to 1936, to contemporary reports, and the personal communications and meetings with Middlemore family members and descendants of Middlemore home children have given Dr. Roberts- Pichette a unique perspective on the work of the Middlemore agency and its homes. Her book explores government policy changes over the whole period of juvenile immigration and reveals the influence of eugenicists in helping end the juvenile immigration movement in Canada in general and Middlemore Homes in particular. It is essential reading for anyone wanting to understand the movement's causes and evolution. ISBN 978-1-77240-046-5 (has index of names)http://globalgenealogy.com/ Published by Global Heritage Press, Ottawa, 2016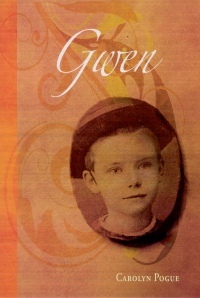 Gwen by Carol Pogue, historical fiction aged 10 to adult
No matter what the world throws at her, Gwen Peters rises to the challenge. Feisty, curious, with a flare for the dramatic, she dreams of a life on the stage like her idol E. Pauline Johnson, a Mohawk poet and performer who dazzled Gwen during a stunning performance in a London theatre. When Gwen is orphaned, she seizes the opportunity to become a Home Child and is trained for placement as a maid for a family in Canada. So begins her long journey away from her friends on the streets of turn-of-the-century London to service in a wealthy household in Toronto.But when trouble strikes in Toronto, Gwen escapes into the night. Angry and alone, she undertakes a long dangerous trek, following the train tracks back to the only safe haven she knows: Cedarbrae, the Home in Peterborough. Sumach Press, Apr 5, 2009
The Home Child by Richard Tanos. An engaging novel about an English orphan who comes to Canada to be a home child as part of a lucrative child slave movement. Based on actual events.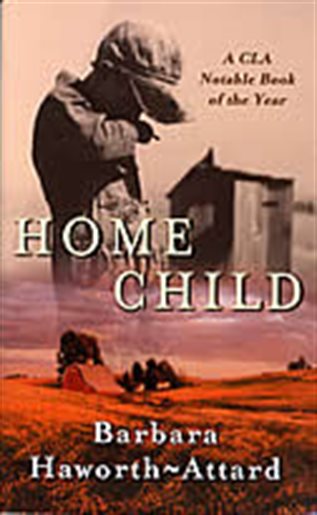 The Home Child by Barbara Attard
The year is 1914. Thirteen-year-old Arthur is a "home child, " an English orphan forced to work on a Canadian farm. Will he ever be truly accepted there? GoodReadshttp://www.barbarahaworthattard.com/HomeChild.html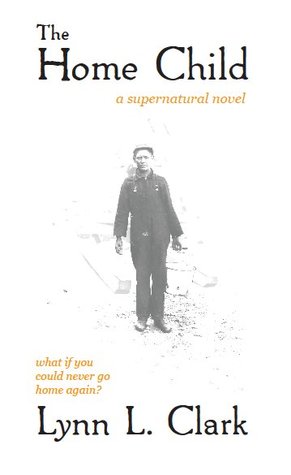 The Home Child by Lynn Clark
Jake Hall is a transplanted city dweller trying to adjust to the realities of country life. He knows it isn't going to be an easy transition. He's prepared for major renovations to the old farm house he's bought, but what he hasn't counted on is finding a former resident still inhabiting the house in spirit form! Set in eastern Ontario, Canada, against the backdrop of a rural town in transition, this story combines historical detail and the supernatural in the poignant tale of a home child wanting simply to be reunited with the family he lost so many years ago.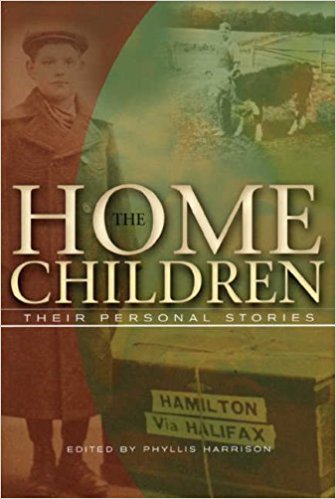 Home Children: Their Personal Stories by Phyllis Harrison
From 1870 to 1930 British Home children, over 1000,00 of them, arrived to work on Canadian farms. Travelling in groups of up to 400, their worldly possessions in small metal trunks, they came from the discipline of British Homes to the land that was believed to offer the best hope for their future. Some of them are still living; their personal stories have been compiled and edited by Phyllis Harrison. From childhood memories, the writers tell of the harsh conditions that separated them from family and friends, of the reality of loneliness, of grinding hard work, discrimination, and disappointment.
Hopeless …. A British Home Child Novel by Michael Staples
is a tale based on the life of May Charrington, one of the estimated 100,000 British Home Children forcibly shipped to Canada from 1869 to 1939. Once they arrived in Canada, they often faced an existence laced with despair. For many, it was a life without hope.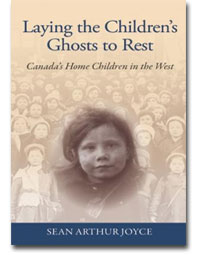 Laying the Children's Ghosts to Rest: Canada's Home Children in the West by Sean Arthur Joyce
Between 1869 and the early 1930s more than 100,000 children were rounded up from the streets of Britain to be used as labourers in Canadian homes and farms. Today there are two million or more descendants of what were derisively known in Canada as 'home children'. With painstaking research and an ability to bring personal details to life, Joyce imbues the stories of 'home children' with a sense of redemption and human dignity. Joyce asks, "Are we a people who have lost our ghosts? Or are we in fact haunted by them, but can't remember their names?" as he raises the specter of thousands of child ghosts who inhabit our Canadian landscape. A must-read for those with an interest in British Home Children. ISBN 978-1-926710-27-3http://globalgenealogy.com/ Hagios Press, Regina, 2014
The Little Immigrants by Kenneth Bagnell
Between 1870 and the Depression, more than 80,000 impoverished children from the British Isles journeyed to Canada. Known as the "home children" they were sent overseas by well-meaning philanthropists to solve the farm labor shortage. Here is a heart rending story of youngsters to many of whom a new life in Canada meant only hardship and abuse. Dundurn Publ.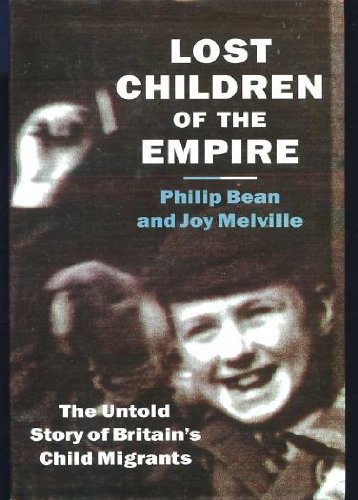 Lost Children of the Empire by Phyllis Bean and Joy Melville
A remarkable overview of Britain's child migration scheme, where orphans, "street kids," and other children were packed off to colonial destinations, all with government assistance or blessing. Philip Bean and Joy Melville did a great job of presenting details of the different phases of the migrations along with excerpts from letters/writings from the exiles. Reading their letters, occasionally detailing abuse but more often ill-treatment and hardship, can be heartbreaking at times. Quite a few, though, show a resilience that always amazes me about the human spirit. ISBN 0-04-440358-5 Published by Unwin Hyman Ltd of London Eng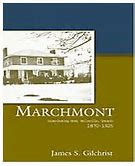 Marchmont Home by James Gilchrist
Jim's interest in the British Home Children derived from his grandmother who was one of these deserted children. Her name was Alice Carney and she came to Canada in August 1872, under the auspices of Maria Rye from a Kensington Workhouse, in St. Mary Abbot's Parish, London, England. Jim's search for information about Alice introduced him to the Marchmont Home. What he discovered was much critical opinion about the British Home Children. In light of many positive stories about Home Children, Jim was convinced the truth lay not in the opinion of the critics but in the stories and letters of the Home Children themselves. This book, then, is written solely to provide information from research on those who experienced Marchmont firsthand, those who faced bleak and terrible times in England but, in coming to Canada, altered those odds drastically to become the successes they were. Good Reads. www.amazon.com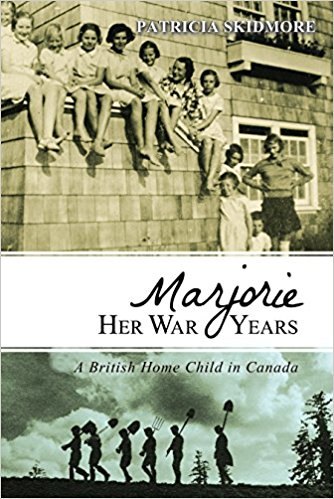 Marjorie Her War Years – A Home Child in British Columbia by Patricia Skidmore
Her family broken apart and her identity taken away, she had to forget her past in order to face her future. But forgetting isn't forever. Taken from their mother's care and deported from England to the colonies, Marjorie Arnison and her nine-year-old brother, Kenny, were sent to the Prince of Wales Fairbridge Farm School on Vancouver Island in September 1937. Their eight-year-old sister, Audrey, followed the next August. Dundurn Press (Release date – August 11, 2018)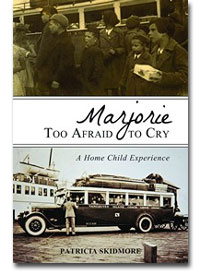 Marjorie Too Afraid to Cry, A Home Child Experience by Patricia Skidmore
Marjorie Arnison was one of the thousands of children removed from their families, communities, and country and placed in a British colony or commonwealth to provide "white stock" and cheap labour. In Marjorie's case, she was sent to Prince of Wales Fairbridge Farm School, just north of Victoria, British Columbia, in 1937. As a child, Patricia was angered that her mother wouldn't talk about the past. It took many years to discover why – it wasn't because she was keeping a dark secret, but because she had "lost" her childhood. For 10-year-old Marjorie, forgetting her past, her family, and England was the only survival tool she had at her disposal to enable her to face her frightening and uncertain future. This is Marjorie's account as told by her daughter. It is a story of fear, loss, courage, survival, and finding one's way home. ISBN 9781459703391 Published by Dundurn, Toronto, 2013http://globalgenealogy.com/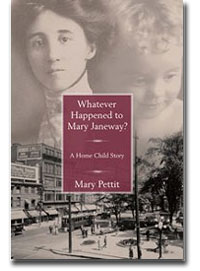 Mary Janeway The Legacy of a Home Child by Mary Pettit..
Mary Janeway, born in Scotland in 1887, came to Canada as a "home child" at a very young age. Separated from her brothers and sisters, the "tiny" Mary was sent as a domestic to a farm near Innerkip, Ontario. This is Mary's story – a recreation of her life set in Victorian rural Ontario, from the time of the tragedy that split her family to her eventual escape from a life of drudgery. Robbed of her childhood years but buoyed by an inner resolve and an indomitable spirit, Mary Janeway reveals the tragic events surrounding this period of Canadian history – the Home Children. Mary Janeway was godmother to author Mary Pettit.
Middlemore Atlantic Society (MAS) by Marion Crawford published in 2011, is now sold out.
This 94 page book includes individual`s stories, the origin of the Middlemore Reunions, and events over the past 30 years ending with the 30th reunion and a few of the `families reunited`stories. There are many photos included
Middlemore Memories – Tales of the British Home Children by Michael Staples
is a collection of stories that follow the lives of children sent to Canada from orphanages in Great Britain. It tells of the hurt, anguish and torment of not being
wanted by the country of your birth. (190 pages)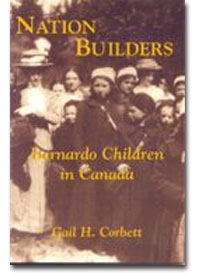 Nation Builders, Barnardo Children in Canada by Gail H. Corbett
The book sensitively and accurately records the largest and most successful child emigration into the emerging nation. The author records first hand accounts of child emigration, archival materials, directions for genealogical research and more.http://globalgenealogy.com/
New Lives for Old: The Story of Britain's Home Children by Janet Sacks, Roger Kershaw, 2008
Over 100,000 children were sent across the seas to Canada between 1869 and the late 1930s. Thousands of others were dispatched to Australia as well as to New Zealand, South Africa and Rhodesia up to and even after the Second World War. These young migrants came from charitable organizations or children's homes, and were sent to find a better life as agricultural workers and servants, mechanics and skilled artisans. They were the superfluous thousands of Britain's cities, including workhouse paupers, reformatory inmates, children from industrial schools and those rescued from slums and the streets. Ranging from five- and six-year olds to teenagers, all were thrust into an alien world from which there was little chance of return. This compelling book tells the story of this controversial practice, from the accounts of those involved and the authentic records of the time. It traces the people behind the migrations exploring their beliefs and aspirations for the children in their care. It considers the roles that different organizations (including the Children's Society, National Children's Home and the Catholic Nugent Society Care Homes) played as well as the shipping lines that carried the children from Liverpool, Glasgow and other ports and the centers that received them overseas. Most importantly, it describes the experiences of the children themselves. Clear-sighted and objective, this is a gripping tale of the good, the bad and the ugly based on original documents from The National Archives and other sources. Above all, it celebrates those who welcomed the migrants and the children who managed, against all the odds, to adapt to their new lives.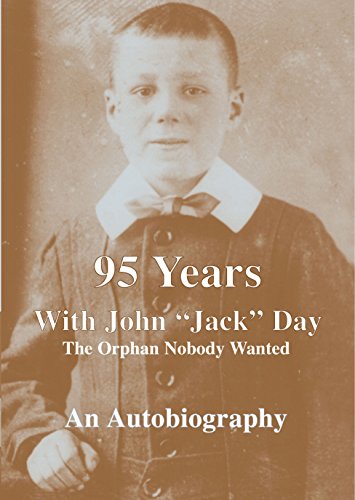 95 Days with "John" Jack Day, The Orphan Nobody Wanted
An autobiography by Jack Day The late John Day (Jack), grew up in the famous Barnardo's Orphanage in London. At the age of ten, he was sent across the North Atlantic to Canada to work on a farm. He eventually worked his way to Decatur, Illinois, where he spent the remainder of his life, frequently writing letters to the editor in various local and regional publications. His very candid biography includes his estrangement from his only son, his reaction to his first wife's love affair, to the Great Depression, to his own love affair, and to a second marriage. An active, competent, and graceful man until his last days, Day left a truly honest legacy of the life of an ordinary man. Mayhaven Publishing

No Thought for Tomorrow, the Story of a Northern Nurse by Cecilia Jowett
A Dr Barnardo Home Girl, Cecilia Jowett immigrated to Canada from Great Britain in 1901; She graduated as a nurse from Orillia General Hospital in Ontario. Cecilia was missionary nurse in the remote countryside around Cochrane, Ontario. Later, Cecilia returned to the Orillia area and settled in Longford Mills. There, she befriended and nursed the Chippewa people of Rama First Nation Reserve. Sparkle Books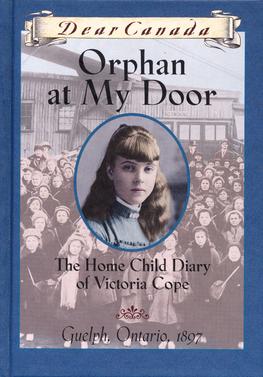 Orphan at my Door – The Home Child Diary of Victoria Cope by Jean Little (children's book)
The book tells the story of 60,000 "Home Children" sent to Canada at the turn of the century from the slums of London through the fictional character of Mary Anna Wilson, who comes to live with a host family in Guelph in 1897. Her story is told through the eyes of her confidante, 11-year-old Victoria Cope. – Scholastic Dear Canada series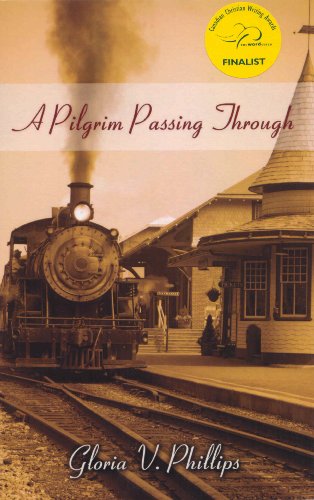 A Pilgrim Passing Through by Gloria Phillips a historical novel.
He was the son of a wealthy businessman in England. She was the daughter of a poor Scottish coalminer. As the nineteenth century drew to a close, Gottlob Müller packed his bag, left his family behind and boarded a ship to Canada, joining the scores of child immigrants that would soon become known as Home Children. Four days after the sinking of the Titanic a decade later, Gladys Mitchell sailed with her family from Glasgow to Halifax, in search of a better life in Canada. When Britain was drawn into the war in Europe in 1914, they both knew they would never return to their homeland. Would they find the fulfillment they longed for in the new country?http://www.rogdah.com/gloriavphillips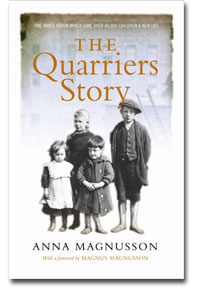 The Quarriers Story, One Man's Vision Which Gave Over 40,000 Children a New Life by Anna Magnusson.
This book, by Anna Magnusson, chronicles the history of Quarriers from its earliest days as a refuge for thousands of destitute children in Victorian Scotland through to becoming one of the 21 st century's leading social care charities. It tells the inspiring story of how the vision and determination of one man – William Quarrier – created a legacy which continues to serve the people of Scotland to this day.http://globalgenealogy.com/Dundurn Publ.
Researching Canada's Home Children by John D. Reid, British Isles Family History Society of Greater Ottawa Heritage Productions, 2005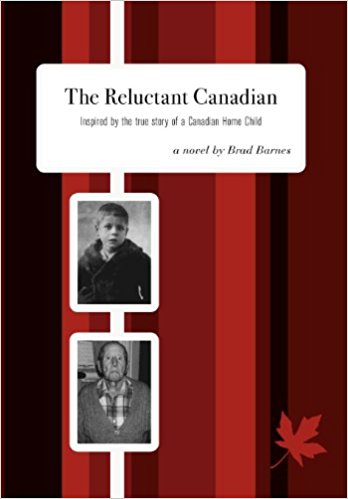 The Reluctant Canadian by Brad Barnes
This fictional story is inspired by Canada's real-life Child Immigration Scheme, a largely forgotten program that brought upwards of 100,000 supposedly orphaned and abandoned British children to Canada to act as much-needed farm labourers and servants ) from 1860 to the 1920s. The Reluctant Canadian follows the unforgettable and haunting journey of Sidney, a spirited victim of this immigration scheme who, after the death of his father, is taken from his mother and placed in a London orphanage. When eight-year-old Sidney is sent to Canada to live with new parents, he soon learns that his appointed guardian is the furthest thing from a father figure that he can imagine. As Sid comes of age amidst heartache and abuse, he struggles to retain his hope of one day returning home to his family. But as he desperately tries to escape his circumstances and free himself from the hold that the scheme has on him, he finds that he's been marked for life by the program that supposedly wanted to help him. Friesen Press, 2012
Searching for Billie – novel by Freida Jackson
Jane Priddle, a proper young Englishwoman, has lived a sheltered, genteel life. In 1897, she is offered a life-changing opportunity: she will travel to the northwest frontier to search for young Billie Thomm. Surviving in the gutters of London, England, Billie had acquired the cunning of someone twice his 15 years, but a moment of desperation and his connection to a messy death brought him to the Eastwood Mission Society. Before the law could catch up with him, he became a "home child," one of thousands of orphans and beggars shipped to North America to find better lives. Amazon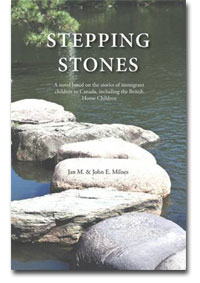 Stepping Stones by John E. Milnes, Jan M. Milnes
A novel based on the stories of immigrant children to Canada, including the British Home Children. With the emergence of the Industrial Revolution in Great Britain came increased riches for the wealthy and desperate poverty for the poor. The British Government, in a valiant attempt to help these lost souls, entered into an agreement with the Canadian Government, resulting in large numbers of British children emigrating to Canada in the new world. These were to become known as the British Home Children because they largely started out in a philanthropic home. Some even migrated through other means, as will be seen in the case of John Buchan, a significant character in this novel. The authors determined that the wealth of books presently available did not truly reflect the reality of the situation to which these children were subjected. Through this novel they hope to generate a greater interest in the children who were to play a large part in forming the demographic of an emerging nation. In Ontario alone 1 in 10 are believed to be descendants of these children. ISBN 978-1460282564 Friesen Press, Victoria, 2016http://globalgenealogy.com/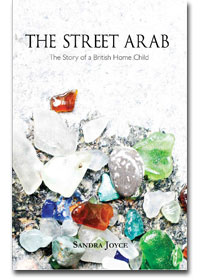 The Street Arab – The Story of a British Home Child by Sandra Joyce
Now a Canadian Best Seller!
The Street Arab is a powerful novel about a boy, from a small mining town in Scotland, whose family is torn apart by the First World War and resulting poverty. After foraging for food one day, Robbie returns home to find his family missing and suffers a horrific accident. With strength and determination, he forges ahead and is sent, along with countless other British Home Children, to Canada to begin a new life. What awaits him is more than he could ever have imagined. The Street Arab, written almost a century later, pays homage to the children involved in one of Canada's largest immigration schemes. It is estimated that ten percent of Canadians are British Home Child descendants. Those with an interest in the 18th and early 19th century relocation of orphaned and poor British children to Canada will benefit from reading this book. ISBN 978-0-9877640-0-3 Welldone Publishing, Toronto, 2011http://globalgenealogy.com/ www.sandrajoyce.com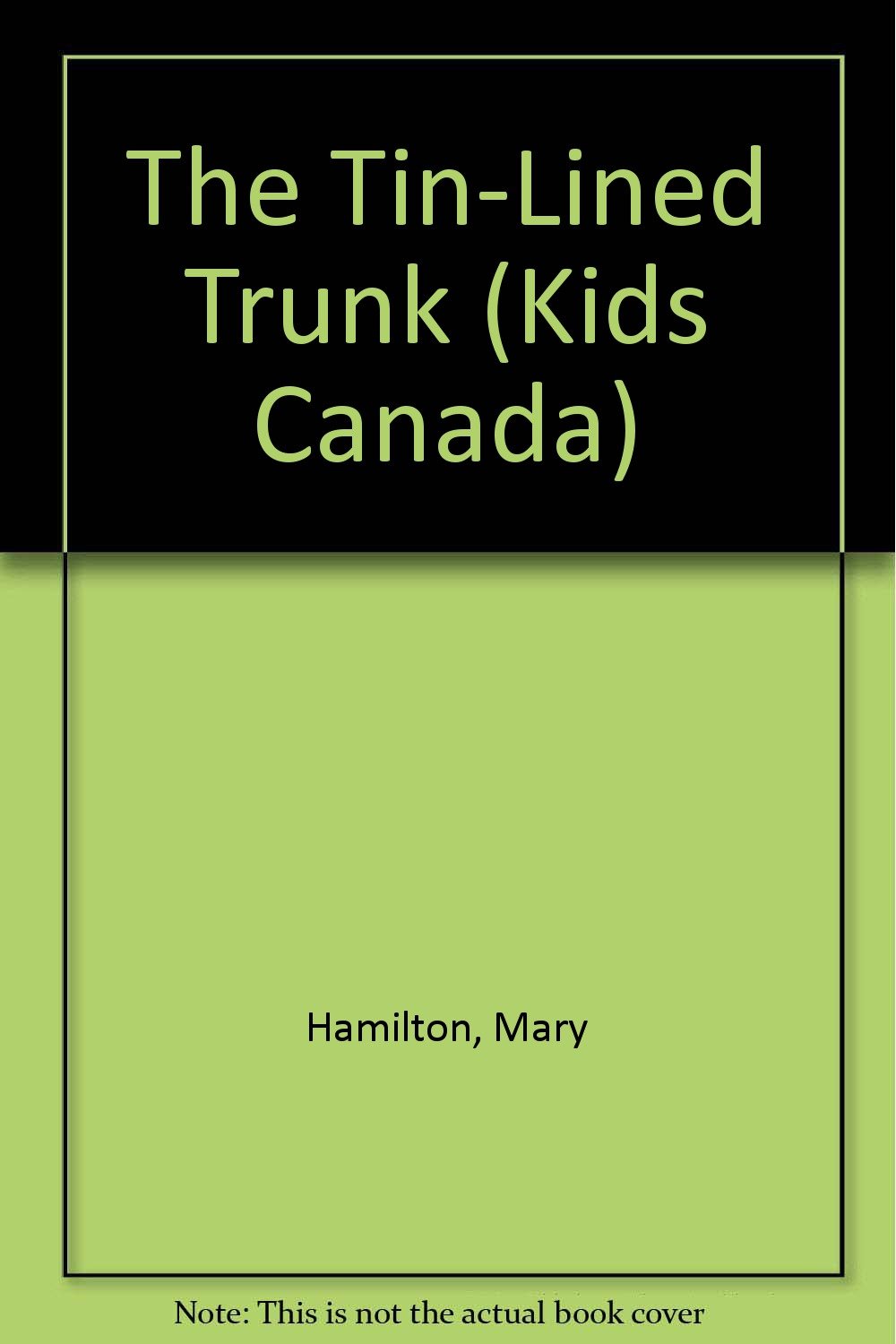 The Tin-Lined Trunk by Mary Hamilton
Polly Dipple and her brother Jack, two London street urchins, are rescued from hunger and cold by Dr. Barnardo, founder of the Barnardo Homes for destitute children. Jack is shipped off to Canada to work as a farm labourer, while Polly remains in England to train as a domestic servant. Eventually, Polly joins Jack in Toronto and the two of them are placed on neighbouring farms. Badly mistreated by his employers, Jack runs away, but finally the two children are reunited and live and work happily with a farm couple who accept them as part of the family. Kids Can Press, 1980 -Fiction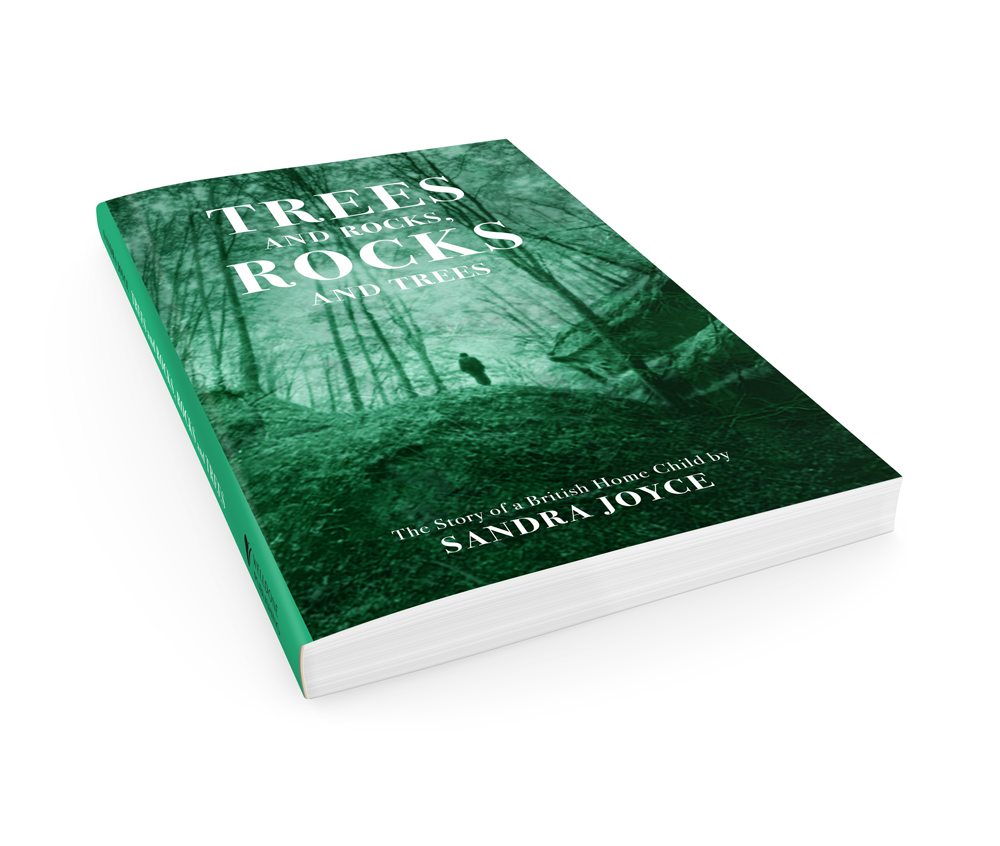 Trees and Rocks; Rocks and Trees by Sandra Joyce.
This adaptation of Sandra Joyce's powerful first book, The Street Arab – The Story of a British Home Child is meant for young readers. It is a story about a boy, from a small Scottish mining town, whose family has been torn apart by the First World War and resulting poverty. After foraging for food one day, Robbie returns to find his family is missing and suffers a terrible accident. With strength and determination, he forges ahead and is sent along with countless other British Home Children, to Canada to begin a new life. www.sandrajoyce.com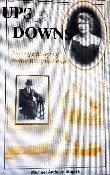 Ups & Downs: The Life Story of Nellie Winifred Platt by M. Staples
In 1923, Nellie Winifred Platt made a trip to find her two brothers and a sister, who had been sent to Canada in 1911 from the Middlemore Home in England. Her grandson, Michael Staples, a well known New Brunswick journalist, used her search as the focus of his book "Ups and Downs"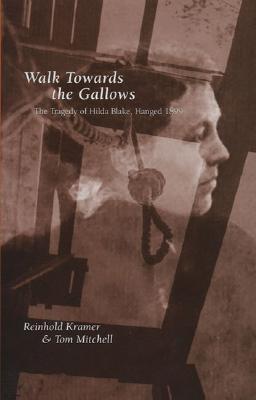 Walk Towards the Gallows: The Tragedy of Hilda Blake, Hanged 1899 by Reinhold Kramer & Tom Mitchell,
On 5 July 1899 Hilda Blake, a 21-year-old maidservant in Brandon, Manitoba, who had come to Canada from England ten years earlier as an orphan immigrant, shot and killed her mistress. Two days after Christmas she was hanged, one of the few women in Canadian history to die for her crime.
Blake unintentionally left a remarkable documentary record, ranging from Poorhouse records, courts dockets of custody and criminal cases in which she was the central figure, popular, journalistic, and professional assessments of her character, and a poem, 'My Downfall', that she penned in Brandon Gaol while awaiting execution. To explain why Hilda bought a gun and why she fired it, Kramer and Mitchell employee both historical and literary techniques. The result is a richly textured story of late Victorian social, cultural, and political life. Published by Oxford University Press, Canada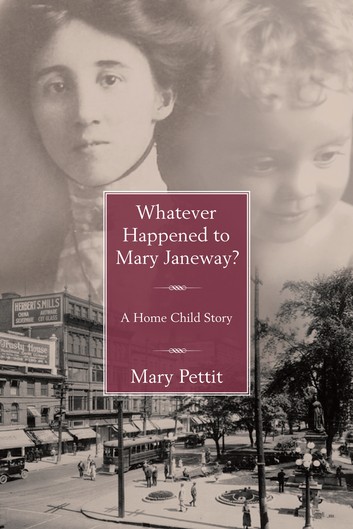 Whatever Happened to Mary Janeway? A Home Child Story by Mary Pettit
Sixteen-year-old Mary Janeway, a home child, is desperate to escape from her rural home child placement and flees to London, Ontario, to find a domestic position. When conditions become unbearable, she moves on, vowing never to relinquish her freedom again. After she arrives in Hamilton as a young bride, she quickly adapts to the urban conveniences and the marvels of new inventions that include electric sewing machines, sulphur matches, street stoplights, a one-horsepower Brunswick refrigerator, the advent of the zipper, and the beginning of radio. But even the latest technology can't stop the ravages of disease and other family tragedies. Published by Dundurn, Toronto, 2012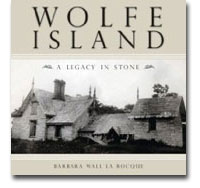 Wolfe Island's History and the Legacy of Home Children by Barbara Wall La Rocque
One of the most compelling bits of history that the book touches on surrounds the phenomenon of 'home children:' the United Kingdom's institutionalized resettlement of poor and orphaned children to other commonwealth countries, beginning in 1869. The resettlement system was conceived with the benevolent intention of removing children from harsh English workhouses (think Oliver Twist) and providing them with better opportunities overseas. Indeed, many children found loving homes and success through the program, numerous others were exploited for cheap agricultural labour and often subject to poor working and living conditions. Many of these children found themselves living and working on Wolfe Island, sometimes for better and occasionally for worst.