Once an area that entertained the elite of Toronto society, the demise of the mansion-lined area bounded by St. George and Sherbourne Streets, started just after the First World War. The character of the neighbourhood was changed forever after several former stately homes were sold to be used as institutions.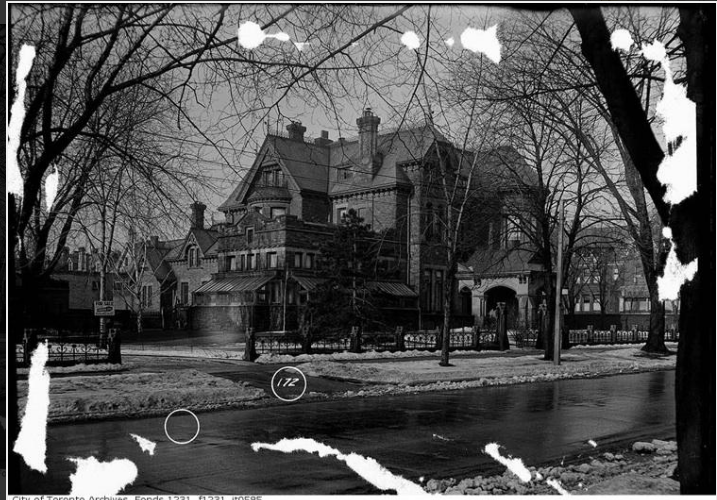 538 Jarvis, which became a Dr. Barnardo's Receiving Home and their Canadian Headquarters from 1922 to 1948 was formerly the home of Cawthra Mulock, the son of Sir William Mulock who was Post Master General, Chief Justice of Ontario and Canada's first Labour Minister.
Known as the 'boy millionaire' Cawthra inherited the property called 'Northworld' and eight million dollars from his great-aunt, Mrs. William Cawthra Murray at the age of 21. Before his untimely death at the age of 36 during the Spanish Influenza epidemic, Cawthra entertained the likes of the Sir John A. MacDonald, the Masseys, the Gooderhams and the Mowats at his three-storey home which boasted two drawing rooms, a ballroom, a marble conservatory and a Pierce Arrow motor car in his garage adjacent to the stables.
Cawthra also held numerous influential positions as a financier and businessman but is most famous for building the Royal Alexandra Theatre, still one of Toronto's premier attractions, in 1907. One of the most colourful of a new generation of Toronto capitalists, he was a canny investor in the city's rising stock and real estate markets.
In 1948, 'Northworld' was sold to the Salvation Army for less than its 1922 purchase price.
From a Toronto Star article dated April 25, 1957 as the building was being torn down to make way for 'stream-lined ultra modern apartments':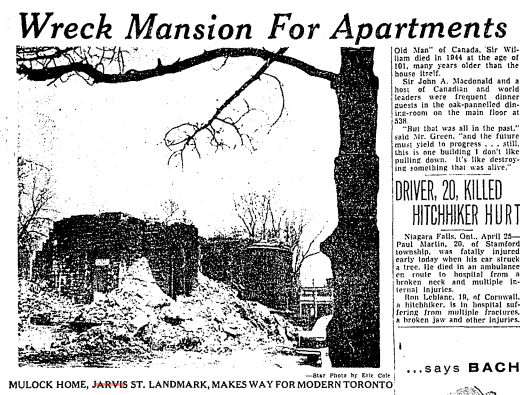 "…the Jarvis home was turned over to the Dr. Barnardo's boys organization and hundreds of English youngsters tried to carve their initials into the 24 inch stone walls in the wine cellar… in 1948 it passed into the hands of the Salvation army and more than 70,000 immigrants passed through the rear quarters while officials directed the Canada-wide organization from the main floor."
Wrecking foreman Lewis Green had this to say in the same Toronto Star article:
"It was one of the finest houses in Toronto. It should have never been torn down. You never get craftsmanship like this today: it would have lasted another 1,000 years…it would have made a wonderful museum."
Barnardo's moved its headquarters to 20 Spadina Avenue in 1948.