Lost at Sea – the S.S. Labrador
Built in 1891 at the Harland and Woolf shipyard in Belfast, Ireland, the SS Labrador was purported to be the finest four-masted steamship of her day. Owned by the Mississippi and Dominion Steams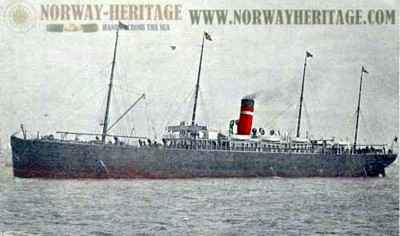 hip Line, she was primarily built to convey emigrants to North America. There was room for 100 first class, 50 second class and 1000 third class passengers.  She was also a Royal Mail Ship licensed to carry mail by the British Post Office.
In 1892 she made eleven voyages across the Atlantic  and 1893 she made ten. Normally, her voyages took between ten and twelve days, depending on the weather, except for one when in a notable six and a half days.
In all, she carried, according to the Library and Archives Database, 2,000 British Home Children to their destinations in Canada.
It was on a return voyage to Liverpool from St. John, NB and Halifax, NS in 1899 that the SS Labrador met her fate.  Carrying only 74 passengers, a crew of 92 and 17 horses, she ran into a haze which soon turned into a thick fog. The ship had to be navigated by 'dead reckoning' –which is the process of calculating one's current position by using a previously determined position over elapsed time and distance. For three days, regular sightings could not be taken.
Captain Erskine estimated that she was off the northern coast of Ireland when she was in fact sixty miles further north.  It was seven in the morning when she ran aground on the north-eastern side of McKenzie's Rocks. McKenzie's Rocks are a remote group of rocks that are a known hazard to shipping, and some 15 miles to the west of the nearest landfall at Hynish, Tiree, Scotland.
Upon examination it was determined that the ship was taking in a lot of water and all eight of the life-boats were lowered. Passengers and crew members filled them in an orderly manner.  The horses were set free.  The sea was exceptionally rough and the boats were full of water 'up to their knees' as one passenger remarked.  The sailors pulled with all their might but had an extremely hard time rowing. Finally, a Norwegian coal ship called the Viking, who was also off course due to the fog, was able to pick up seven of the lifeboats.  The eighth lifeboat was able to land at Skerryvore Lighthouse on the island of Tirree.
As the grain that the Labrador was carrying became swollen with the water, it split the ship into two. Regarded as a total loss, the ship was largely salvaged for scrap. The fate of the mail is uncertain: some say none was salvaged, others say different ships were able to pick up some. There is no mention of the fate of the horses.