Contact: Quarriers': website: www.quarriers.org.uk; e-mail: einquiries@quarriers.org.uk or josie.bell@quarriers.org.uk    more information at http://content.iriss.org.uk/goldenbridge/nof/index.html
Receiving or Distribution Homes in Canada: Quarrier's: Marchmont Homes in Belleville, ON and Fairknowe Homes in Brockville, ON
William Quarrier was born in 1829 in Greenock, Scotland. A few years after his ship-carpenter father's untimely demise during a cholera epidemic in Quebec, William Quarrier's mother moved her family to Glasgow.
Impoverished, at the age of eight, Quarrier found work in a boot shop to supplement his family's income and stayed in the trade until he was sixteen, when he began working for Mrs. Hunter.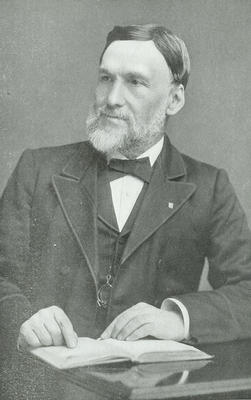 With her support, he opened his own shoe shop at 23 and eventually married Isabella, her daughter. William and Isabella had a son and three daughters and also provided for the three orphaned children of Quarrier's eldest sister.
Having risen out of poverty himself, Quarrier was driven to help the poor and helpless children running rampant in the slums of Glasgow. He decided on a Shoeblack Brigade which was quickly followed by a News Brigade and Parcel Brigade –by which youth earned a living, but were expected to attend night school and Sunday school.  The original headquarters were on Jamaica Street, followed by Bath Street and finally located at 114 Trongate where the three Brigades amalgamated into The Industrial Brigade.
When Quarrier first met Scottish evangelist Annie MacPherson in 1871, who was already emigrating children to Canada, a Home in Glasgow at 10 Renfrew Lane, was established.  The idea of sending children to Canada greatly appealed to him. His intent was to open an Emigration Home in Glasgow.
Shortly thereafter,  10 Renfrew was used just for boys and a smaller house was opened for girls at 93 Renfield Street. They were quickly both filled to overflowing, and a mansion was purchased in Cessnock, Govan for boys and two more were acquired for girls at Newstead and Elmpark in Govan Road.  Both Renfrew locations were closed and Cessnock was begun to be used exclusively for children preparing for emigration.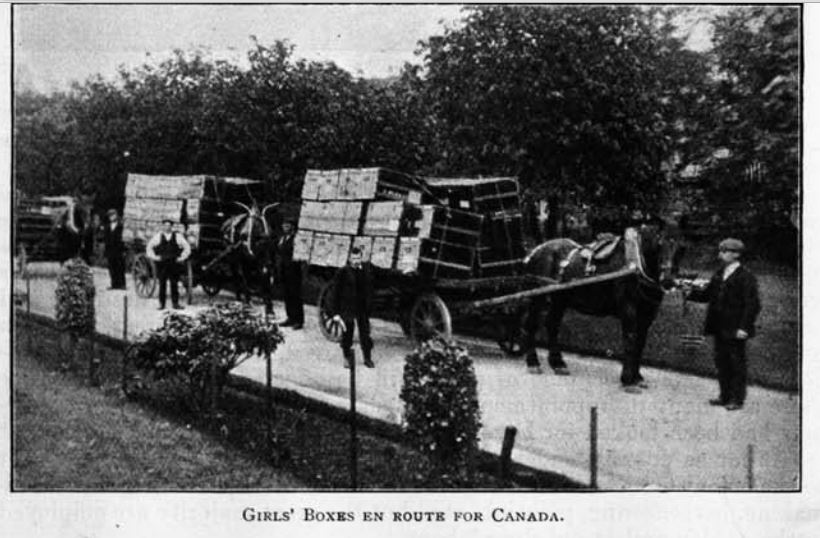 Quarrier's first shipment of children left in 1872 for Annie MacPherson's Homes. It cost ten pounds per child to outfit and transport them. Upon arrival in Canada, the children were distributed to MacPherson's Homes in Knowlton, Quebec, Belleville Ontario and finally Galt, Ontario.
Ellen Bilbrough, who ran Miss MacPherson's Marchmont Home in Belleville, visited Quarrier in 1874. At this point, sixty children a year were being sent to Canada by Quarrier's Orphan Homes of Scotland.
In 1876, two pivotal things happened: Nittingshill farm was bought at Bridge-of-Weir, in Renfrewshire, with the idea of building Homes there based on the cottage system and the City Orphan Home in Glasgow on James Morrison Street was opened.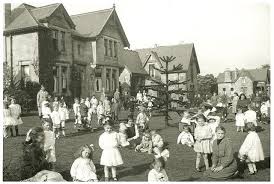 'The Village' at Bridge-of-Weir, as it was later known, was opened in 1878 and became the primary Orphan Homes of Scotland Home (Quarrier's). Soon an Invalid Home became available and a laundry, workshops, bakehouse, church, store and growing numbers of cottages were built. A land-locked ship, the James Arthur, was also in The Village in order to train up to 30 boys for the sea. In its heyday, up to 1,500 children were housed there.
Over 400 'Quarrier' children had already been sent to Canada in care of Annie MacPherson or Ellen Bilbrough but with the growing amount of children ready for immigration, Quarrier,  in 1888, purchased a building in Brockville, Ontario, called Fairknowe to be used as his own receiving home.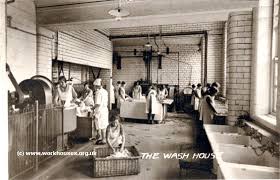 By 1897, 2,600 children had been sent to Canada through The Orphan Homes of Scotland but this year an Act of the Ontario Provincial Parliament to licence agencies regulating the Immigration of 'certain classes' of children was passed. The Act was meant  to assure "the Canadian public that every precaution is being taken to guard against the moral or physical deterioration of our people,"  said Arthur S.Hardy,  Premier of Ontario, in a public statement.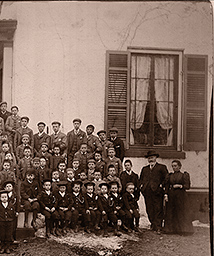 William Quarrier took offence to this, believing children should not be discriminated against and stopped sending children to Canada under the age of 18.
William Quarrier died in 1903 and his wife Isabella followed shortly after in 1904. By 1905, their daughters Agnes Quarrier Burges and Mary Quarrier began sending children once again to Fairknowe in Brockville, with a break only during the First World War. Immigration ceased in 1938.  All in all, over 7,000  children were sent to Canada by the Orphan Homes of Scotland (Quarrier's).  
On September 28th, 2012, on the first anniversary of British Home Child Day in Ontario, a plaque was erected in front of Fairknowe  Home, which is now being used as an apartment building.